×
remind me tomorrow
remind me next week
never remind me
Subscribe to the ANN Newsletter • Wake up every Sunday to a curated list of ANN's most interesting posts of the week.
read more
News

Crunchyroll to Stream To Be Hero, Cheating Craft Anime

posted on by Karen Ressler
Superhero comedy, school battle anime premiere Wednesday
---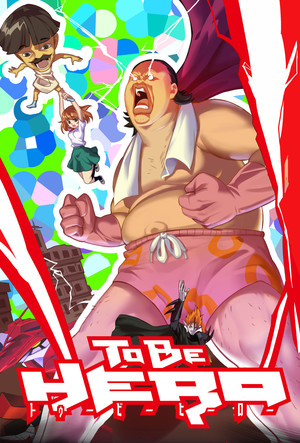 Crunchyroll announced on Tuesday that it will stream Emon Animation Company's TO BE HERO and Cheating Craft anime. TO BE HERO will premiere on Wednesday, October 5 at 7:00 a.m. EDT and Cheating Craft will premiere the same day at 7:15 a.m. EDT. Both will be available worldwide outside of China, Japan, and Korea.
The anime will premiere in Japan on Tokyo MX on October 5 at 6:30 p.m. Emon is airing both series in the same time slot. Cheating Craft will air a 10-minute episodes in the time slot, after which To Be Hero will air nine-minute episodes.
Crunchyroll describes TO BE HERO:
The protagonist, Old Man, is very attractive but a terrible slob, a failure as a father, and works as a toilet seat designer. He is divorced from his wife, and lives with his daughter, Min-chan, who is both very smart and athletic.

One day, as he was taking a dump, he was sucked into his toilet and given the important job of becoming a hero to save the world! He ends up having to give up his good looks for a chubby frame in exchange.

Old Man's battle to protect the Earth and Min-chan is about to start...
Shinichi Watanabe (Excel Saga, Puni Puni Poemy, Nerima Daikon Brothers) is supervising the series, and is credited for writing the script, as well as "Hyper Afro Creator." LAN is credited for character design, color design, art design, and as chief animation director and line director. Aya Hida is credited for editing. Emon is credited for photography and production.

Crunchyroll describes Cheating Craft:
University Exams are one of the most influential factors in one's early life. Depending on the results, a fantastic, high class, honorable life may await you. Or, on the other end of the spectrum, you may be left only leftovers. In this type of battlefield atmosphere, students are always doing their best to "evolve" and survive. "Learning Types" are students who have studied hard their whole lives and legitimately memorized everything they have studied, while "Cheating types" are those who, as the name suggests, only managed to climb the educational ladder by cheating. Though sometimes they must cooperate with each other, there is a great rivalry between the two types. How will the hero "Mumei", a C Type, followed by the heroin "Koui" a L-Type, struggle in those tests. Now a new battle, one beyond imagination, is about to begin.
Keitaro Motonaga (Getbackers, Ah My Buddha, Majestic Prince) is directing the anime at BLADE. Takamitsu Kouno (Utawarerumono: The False Faces, Kyo no Gononi, Absolute Duo) is supervising the series' scripts.
Mai Matsuura (Pretty Rhythm Rainbow Live, La storia della Arcana Famiglia, Uragiri wa Boku no Namae o Shitteiru) is designing the characters alongside Norie Tanaka (Hundred). Matsuura and Tanaka are also credited as chief animation directors, alongside Ryousuke Tanigawa (Food Wars! Shokugeki no Soma). Yutaka Kamogawa (Fullmetal Alchemist: Brotherhood) is credited as main animator. Kenichi Ohnuki (Haruka: Beyond the Stream of Time – A Tale of the Eight Guardians) and Hisashi Saito (Infinite Ryvius, Planetes) are credited with design works, while Goichi Iwahata (School Days, Vampire Knight) is credited with prop design.
Emon was established in October 2015 as the Japanese branch of Haoliners, an animation brand based in Shanghai and a subsidiary of Shanghai Haoliners Cultures Media Co., Ltd. Gonzo co-founder Shouji Murahama works as an operating officer at the company. The company is collaborating on a new anime with Geno Studio, Twin Engine's newly established company that is finishing Manglobe's Genocidal Organ film.
Emon was involved in the production of last winter season's Reikenzan: Hoshikuzu-tachi no Utage anime. The company debuted the Hitori no Shita - the outcast anime on July 9, and Crunchyroll is streaming the series as it airs in Japan. The company also debuted the Chinese webcomic-based Bloodivores anime on October 1, and is planning to debut the The Silver Guardian (Gin no Guardian) anime, based on another Chinese web comic, in 2017.
---