News

Pokémon Sun & Moon Games' Trailer Reveals Evolved Starters, New Features

posted on by Karen Ressler
Demo launches October 18; themed 2DS to ship in Japan
---
The Pokémon Company International YouTube channel began streaming a trailer introducing new features for its upcoming Pokémon Sun and Pokémon Moon games on Tuesday.
The video introduces the first evolutions for the starter Pokémon: the Grass- and Flying-type Dartrix (Fukusuroh in Japan), the Fire-type Torracat (Nyahiito), and the Water-type Brionne (Oshamari).
In addition, the video introduces the new Festival Plaza and Poké Pelago features. In the Festival Plaza, trainers can meet with other players and fulfill their avatars' requests. In addition, the Pokemon Company will set missions for all players around the world via the Global Link.
Pokémon in the player's PC boxes can come and go to Poké Pelago, a collection of islands that each have a different feature, such as attracting wild Pokémon, finding items, and training Pokémon.
The video shows the return of Mega Evolution, including Mega Lucario, Kangaskhan, and Salamance.
Finally, the trailer reveals that a demo version will be available on October 18. Players who go through the demo version will receive an Ash-Greninja they can transfer to the main games.
Nintendo Japan announced that it will release a Pokémon Sun- and Pokémon Moon-themed Nintendo 2DS system. The system will ship in Japan on December 8.


The games will
debut
in Japan and North America on November 18, followed by Europe on November 23. The three Starter Pokémon (pictured below) are: the Grass-type Rowlet (Mokuroh in Japan), the Fire-type Litten (Nyabby), and the Water-type Popplio (Ashimari).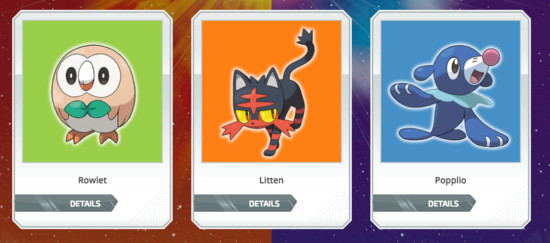 The games' new Legendary Pokémon include Solgaleo and Lunala (pictured below):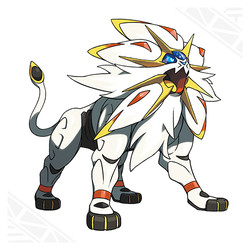 The games will be available on the Nintendo 3DS worldwide in Japanese, English, French, Italian, German, Spanish, Korean, and — unlike in the previous generation — Chinese (Traditional and Simplified). Players can choose their preferred language when they launch each game. The two versions will be set 12 hours apart.
[Via Hachima Kikō]
---