News

3rd Yo-kai Watch Film Unveils Kento Yamazaki, Takumi Saitou in Costume

posted on by Rafael Antonio Pineda
Actors play King Enma, Nurarihyon in live-action segment featuring dance scene
---
The staff of Eiga Yo-kai Watch: Sora Tobu Kujira to Double no Sekai no Daibōken da Nyan! (Yo-kai Watch The Movie: The Flying Whale and the Grand Adventure of the Double Worlds, Meow!), the third Yo-kai Watch film, revealed a new visual of actors Kento Yamazaki (left in image below) and Takumi Saitou (right) in costume as their characters King Enma and Nurarihyon, respectively. They will play the characters during the film's live-action segments.


The film will include a dance scene featuring both actors. The characters debuted in last year's film, Eiga Yo-kai Watch: Enma Daioh to Itsutsu no Monogatari da Nyan!.

The live-action guest cast includes (from left to right and top to bottom):
The film's story is set in both an anime and a live-action world, and will contain live-action scenes in addition to the anime scenes. The film will open in Japan on December 17. Child actor Ryōka Minamide will play main character Keita Amano in the live-action parts of the film. A new Yo-kai named Koala-nyan will be key to the plot of the double worlds.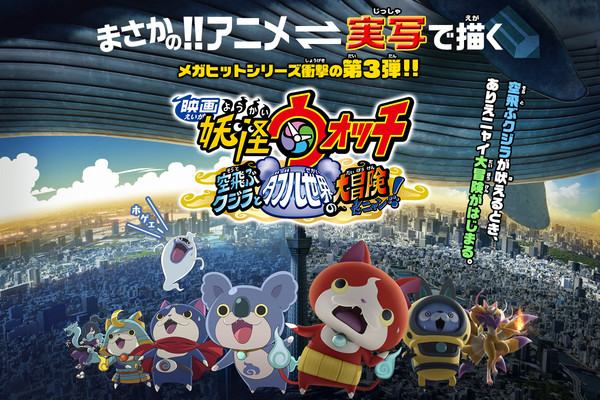 Those who purchase tickets in advance beginning on July 16 will receive a "Jibanyan Real Version Yo-kai Dream Medal" that will be compatible with the Yo-kai Watch 3 game.

TV Tokyo announcer Sayaka Suguru announced last December that the third Yo-kai Watch film would premiere in winter 2016. Level-5 president and CEO Akihiro Hino previously teased that the next film installment might be live-action. Hino is serving as the executive producer for the film and is also writing the film's scripts.
Eiga Yo-kai Watch: Enma Daioh to Itsutsu no Monogatari da Nyan! (Yo-kai Watch The Movie: Great King Enma and the 5 Stories, Meow!), the second film in the franchise, opened in Japan last December. The film topped the Japanese opening of Star Wars: The Force Awakens in attendance, although not in box office gross, during its first week. The film stayed at #2 for five straight weeks.
Source: Animate Times
---