News

Crunchyroll to Stream Lostorage incited WIXOSS Anime

posted on by Alex Mateo
Series based on trading card game premieres on Friday
---
Crunchyroll announced on Thursday that it will stream Lostorage incited WIXOSS, the third TV anime series based on Takara Tomy's trading card game franchise, as it airs in Japan. The first episode will premiere on Friday, October 7 at 1:35 p.m. EDT, and will be available for users worldwide excluding Asia.
Crunchyroll also posted an English-subtitled trailer:

Crunchyroll describes the story:

High school student Homura Suzuko has returned to Ikebukuro, the town where she grew up.

"We're friends forever!" She treasures her memories of her old friend from when she was little, Morikawa Chinatsu, and she's excited at the prospect of meeting her again.

But when she gets to school, she finds she has trouble fitting in with the rest of the class.

One day, she decides that if she learns to play the card game Wixoss, she might be able to make some friends. She stops at a card shop on her way home and buys a deck set. When she takes the set home and opens it, the girl on one of the cards begins to move, and speak.

"Welcome, Selector."

Humans chosen as Selectors must battle for control of the five coins that hold all their memories.

If they can retake all the coins, they win, and can leave the game. But if they lose, as a penalty--

"Lostorage"-- What will become of Suzuko as she's caught up in this insane game?

And just like Suzuko, Chinatsu finds herself drawn into the game as well...
The anime premieres in Japan on BS11 on October 7 at 0:30 (effectively, October 8 at 12:30 a.m.), followed by the Tokyo MX, Sun TV, and KBS Kyoto channels.
The anime features a brand new cast:
Chinami Hashimoto as Suzuko Homura

Yuka Iguchi as Chinatsu Morikawa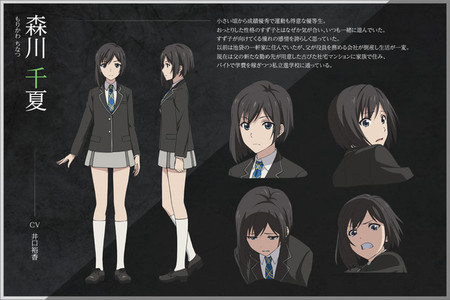 The rest of the cast is as follows (some of the character name Romanizations have not yet been confirmed):
Shizuka Itou as Lil
Hisako Kanemoto as Mel
Shiori Izawa as Nanashi
Yurika Kubo as Hanna Mikage
Kazuyuki Okitsu as Shō Narumi
Shinsuke Sugawara as Shōhei Shirai
Yuri Yamaoka as Aaya
Aya Suzaki as Dōna
Saori Goto as Guzuko
Junji Majima as Sō Sumida
Natsumi Hioka as Rio Oshiba
Asuka Nishi as Kagari Yukino
Hitomi Nabatame as Yukime
Yūichi Nakamura as Satomikō
Katsushi Sakurabi (Flying Witch, Lunar Legend Tsukihime) is the new director at J.C. Staff, and Michihiro Tsuchiya (Major, PriPara) is taking over series scripts. Takamitsu Satou is adapting Yomi Sarachi's original character designs for anime, and Hitoto* is credited with Lil's original character designs. Asuka Hino and Shingo Fukuyo are returning as a color key artist and director of photography, respectively. Also returning are editor Masahiro Goto (REAL-T) and sound effects artist Yasumasa Koyama. Takayuki Yamaguchi is handling sound recording adjustment. Yoshikazu Iwanami is directing the sound, and Maiko Iuchi is composing the music. Tomo Yamaguchi is credited as "WIXOSS supervisor."
Yuka Iguchi is also singing the opening theme song "Lostorage." Singer Cyua is returning to perform the ending theme song "undeletable."

The toy and game maker Takara Tomy launched the WIXOSS (pronounced like "wi-cross") card game in April 2014. The Selector Infected Wixoss anime series also premiered that month, followed by a second season, Selector Spread Wixoss, in October of that same year. The Selector Destructed WIXOSS anime film then opened in Japan this past February.
North American anime distributor FUNimation Entertainment streamed both of the previous television anime seasons as they aired in Japan. Funimation then released the first season on DVD and Blu-ray Disc in September 2015, and released the second season on DVD and Blu-ray Disc in June.
LRIG and illustrator nini will launch the temporarily titled Lostorage incited WIXOSS: Hissatsu Honest (Lostorage incited WIXOSS: Certain Kill Honest) manga in the November issue of Shueisha's Ultra Jump magazine, which ships on October 19.
---