News

SENGOKUCHOJYUGIGA TV Anime Gets Season 2 in January

posted on by Egan Loo
Half-year run planned for anime based on historical Japanese paintings
---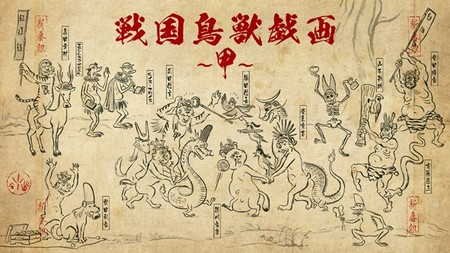 The second season of the SENGOKUCHOJYUGIGA television anime has been green-lit for this coming winter. While the first season, Sengoku Chōjū Giga: Kō, is airing from October to December, the second season, Sengoku Chōjū Giga: Otsu, will air from January to March. ("Kō" and "Otsu" represent one way of listing the first and second items in a sequence in traditional Japanese.) A total of 26 episodes will air over the course of half a year.
Actor Yukihiro Takiguchi will join the cast in the second episode of the anime. A set of digital stamps for the LINE messaging service is commemorating the premiere of the anime.
The anime uses a sumi-e (traditional Japanese ink painting) motif, and features Japan's famous Sengoku-era warlords as animals. The anime depicts the characters in historically important events as well as in casual everyday situations.
Takashi Sumida (Sengoku Nabe TV, Bakarhythm The Movie, Jitsuzai-Sei Million Arthur) is directing the series at ILCA. Ryōichi Tsuchiya (Urero Mikakunin Shōjo) and Hiromu Kumamoto (Kagewani, Kawabon, Yamishibai: Japanese Ghost Stories) are writing the script. Yurisa Ueda is credited for animation. Kensaku Sakai (5LDK, Yorutamori) is credited as the "brain." Japanese artist Nielsen is handling the key animation.
Voice actress Megumi Hayashibara is narrating the series. Other main cast members include kabuki actor Hashinosuke Nakamura as Oda Nobunaga, Ryota Murai as Toyotomi Hideyoshi, and Masanari Wada as Tokugawa Ieyasu.
The series premiered in Japan on October 9 at 1:42 a.m. on KBC TV, and Crunchyroll is streaming the anime as it airs in Japan.
Source: animeanime.jp
---
this article has been modified since it was originally posted; see change history