News

Iron Man & Space Brothers Crossover Manga Printed in Women's Magazine

posted on by Egan Loo
---
Manga creator Chūya Koyama published a 17-page crossover one-shot between his Space Brothers manga and Marvel Comics on Wednesday. The collaboration ran in the November issue of FRaU, Kodansha's monthly magazine for women's fashion, culture, and lifestyle.

The "#Special Tony to Mutta" (#Special Tony & Mutta) manga is part of the magazine's "Otona mo Hamaru Disney 10 no Riyū" (10 Reasons Adults Are Also Into Disney) feature. The one-shot depicts Tony "Iron Man" Stark, who arrived on the Moon on a certain assignment, encountering a confused Mutta (one of the main characters of Space Brothers).
Among the Marvel characters, Iron Man is a particular favorite of Koyama. He said that he thought drawing the crossover would be easy and fun, but it turned out to be rather difficult. He mused that putting Marvel superheroes in Space Brothers felt out-of-place after all. He had various concepts in mind that resulted in the 17-page manga. He relished drawing a team-up that would be impossible under normal circumstances.
アメコミ"MARVEL"のヒーロー、アイアンマンと宇宙兄弟のムッタが共演!?小山宙哉がこのためだけに描き下ろした短編が収録されている『FRaU』は明日10月12日発売です〜!見逃さないよう、明日は本屋さんへGO☆ pic.twitter.com/29XZONen6N

— 小山宙哉《宇宙兄弟》 (@uchu_kyodai) October 11, 2016
トニー・スタークを描く姿#アイアンマン #マーベル pic.twitter.com/MfWdiNLTVO

— 小山宙哉《宇宙兄弟》 (@uchu_kyodai) October 12, 2016
This is not Stark's first foray into manga or anime. Manga creator Kia Asamiya drew the cover of Iron Man comic #400 in 2002. Iron Man starred in his own television anime in 2010, followed by the 2013 original video anime Iron Man: Rise of Technovore. The Marvel Disk Wars: The Avengers television anime then premiered in 2014. Most recently, Stark and the rest of the Avengers (plus the Guardians of the Galaxy) starred in an Attack on Titan crossover one-shot.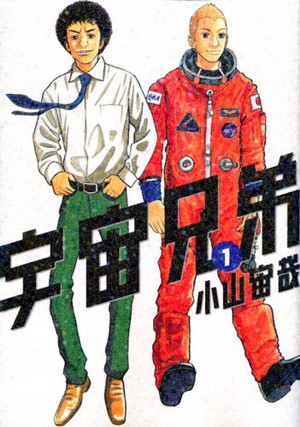 The Space Brothers manga's story follows two brothers, Mutta and Hibito, who made a vow as kids to travel to space. The younger brother Hibito did become an astronaut, but not Mutta. However, Mutta's life changes one fateful day.
Koyama launched the manga in Morning magazine in 2007, and Kodansha published the manga's 29th volume in September. The manga won the General categories in both the 56th Shogakukan Manga Awards and the 35th Kodansha Manga Awards in 2011.
The manga not only inspired a 2012-2014 television anime series, but also a 2012 live-action film starring Shun Oguri and Masaki Okada. The live-action film earned 1.5 billion yen (about US$15 million).
Crunchyroll streamed the television anime as it aired in Japan, and is also publishing new manga chapters as they are released. Sentai Filmworks licensed the television anime for North America, and is releasing the 99-episode series in eight volumes on both Blu-ray Disc and DVD. The 29th manga volume bundled a special edition DVD of the Uchū Kyōdai #0 anime film.
Source: Comic Natalie
---