News

Pokémon Sun & Moon Anime's Promo Video Teases Z-Moves

posted on by Egan Loo
Alola region, new partner also previewed from from 1-hour premiere on November 17
---
The official Pokémon YouTube channel began streaming a "Z-Move" version of the first promotional video for the Pokémon Sun & Moon television anime on Tuesday. The video notes that the anime will premiere on TV Tokyo and its affiliated stations in Japan on November 17. The first episode will be a one-hour special.
The video previews the new Alola setting which is full of never-before-seen Pokémon, the new Rotom Pokédex, the anime's new focus on school life, and the Z-moves being introduced in this latest Pokémon incarnation.
The anime's teaser website previously streamed an earlier version of the first promotional video for the anime last month.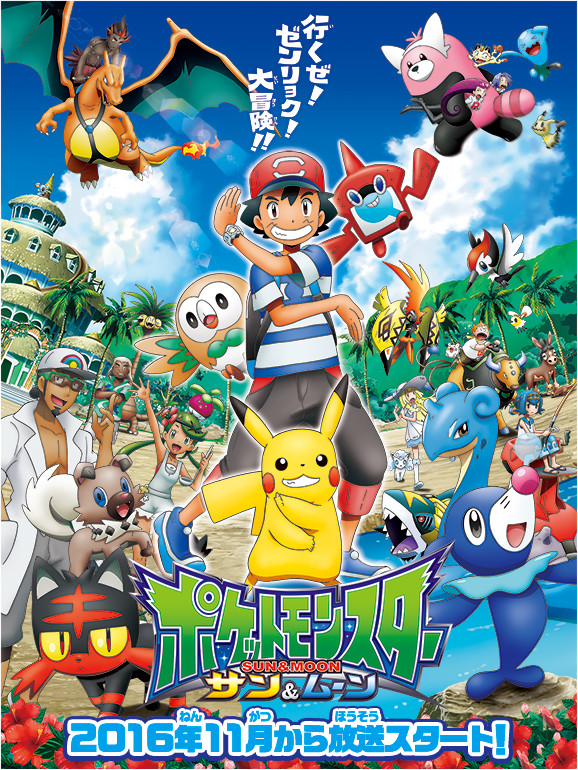 In the anime, Satoshi (Ash) will go to school with friends in the series. (The anime's earlier announcement noted that the series will follow his school activities as he aims to graduate.) Ash will also use the new Z-Moves in battle in the anime, just as players use them in the upcoming games. The anime will feature new Pokémon and new characters.
The Pokémon Sun and Pokémon Moon games will debut in Japan and North America on November 18, followed by Europe on November 23. The games will be available on the Nintendo 3DS worldwide in Japanese, English, French, Italian, German, Spanish, Korean, and — unlike in the previous generation — Chinese (Traditional and Simplified). Players can choose their preferred language when they launch each game.
The games are also inspiring a manga adaptation by Tenya Yabuno (Inazuma Eleven, Digimon V-Tamer) titled Pokémon Horizon that debuted in the October issue of Coro Coro Comics last month. The Pocket Monsters Special (Pokémon Adventures) manga series will begin its Sun Moon arc in the January issue of CoroCoro Ichiban! magazine on November 21.
The currently airing Pokémon XY & Z television anime series premiered in Japan in October 2015, and then premiered in the U.S. on Cartoon Network on February 20.
---