×
remind me tomorrow
remind me next week
never remind me
Subscribe to the ANN Newsletter • Wake up every Sunday to a curated list of ANN's most interesting posts of the week.
read more
News

Sailor Moon -Amour Eternal- Musical's Video Shows Footage From Musical

posted on by Rafael Antonio Pineda
Musical currently in initial run in Tokyo from October 15-23
---
The official website for Bishōjo Senshi Sailor Moon -Amour Eternal-, the fourth 20th-anniversary stage musical of Naoko Takeuchi's Sailor Moon manga, began streaming a digest video on Tuesday featuring a minute of footage from the musical.
In addition, the site revealed that the musical's DVD is slated for March 15.
The musical is currently in its initial run at the AiiA 2.5 Theater Tokyo venue, which began on October 15 and will run until October 23. It will then move to Canal City Theater in Fukuoka from October 29 to 30, and then Sankei Hall Breeze in Osaka from November 4 to 6.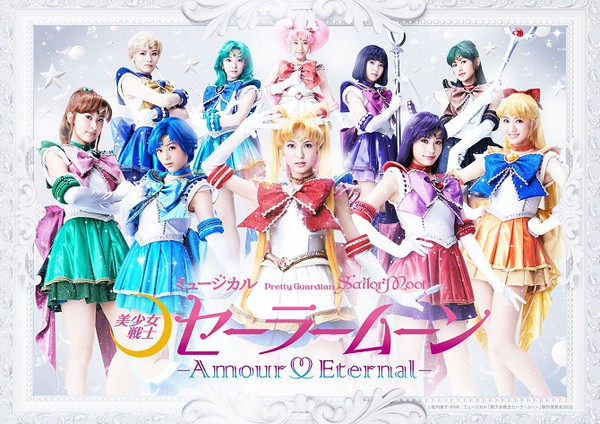 The five Inner Guardians are new cast members:
The following cast members will return from earlier Sailor Moon musicals:
Shū Shiotsuki as Haruka Tenō/Sailor Uranus
Sayaka Fujioka as MICHIRU Kaiō/Sailor Neptune
Karin Takahashi as Hotaru Tomoe/Sailor Saturn
Mikako Ishii as Setsuna Meiō/Sailor Pluto
Airi Kanda as Chibi-Usa/Sailor Chibi Moon
Yūga Yamato as Tuxedo Mask/Mamoru Chiba
New characters include:
Hikaru Hiyama as Helios
Ayu Ōtsuki as Nehellenia
Kanami Sakai as Zirconia
Chihiro Andō as Tiger's Eye
Riona Tatemichi as Hawk's Eye
Yumi as Fish Eye
Yoshika Kobayashi, Risa Kawamura, Yoshimi Hidano, Chiemi Doi, Ayano Nagasawa, and Ayumi Sagisaka as Dead Moon Circus members
Naoko Takeuchi was part of the panel judging auditions for the new cast.

The cast is replacing the main cast from Bishōjo Senshi Sailor Moon -Un Nouveau Voyage-, the third new stage play celebrating the manga's 20th anniversary. The former cast graduated after the third musical finished its run. Nomoto is the sixth actress to play the title character in a stage musical, including those who played Sailor Moon in the first string of productions that ran from 1993 to 2005.
---