News

Hell Girl Stage Play's Cast Revealed

posted on by Rafael Antonio Pineda
Play will run in Tokyo on November 9-13
---
The official website of the stage play adaptation of the Hell Girl (Jigoku Shōjo) anime and manga franchise revealed the stage play's cast on Monday. The cast includes:
Moe Arai as Ai Enma


Ryōta Osawa as Ren Ichimoku


Saki Seto as Hone Onna


Kentarō Shimazu as Wanyūdō


Saki Takahashi as Kikuri


Yuka Nakanishi as Yui Hōjō


Erika Yamada as Miki Katsuragi


Fonchi as Kumiko Miyashita


Natsuki Sugawara as Mina Toba


Rii Sakurai as Mari Sakai


Nanako Akagi as Sayaka Narita


Keita Yonamine as Osamu Katō


Mai Imade as Sakura Sugino


Anju Inami as Rina Takeda (double cast with Rihona Katō)


Rihona Katō as Rina Takeda (double cast with Anju Inami)


Mikako Fujita as Michiyo Takeda


Munetoshi Takubo as Kōhei Takeda


The play will run at Shibuya's CBGK theater in Tokyo from November 9 to 13.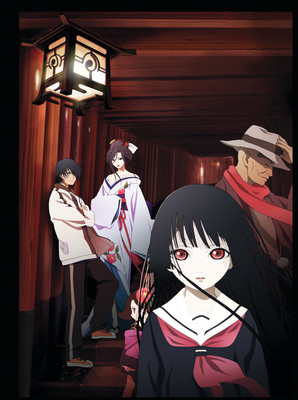 Stories in the franchise usually begin with bullied or tormented people accessing the Hell Correspondence website, allowing them to submit a request to eliminate the person tormenting them. It is then that Ai Enma, the titular Hell Girl, appears, and gives these people a doll that, once pulled, sends their tormentor to Hell, where Enma and her companions proceed to enact karmic torment on the doomed person. The catch is that the person who originally sent the request will be sent to hell as well.
Studio Deen debuted the first Hell Girl television anime series in 2005. The series received two subsequent television anime sequels in 2006 and 2008, as well as a live-action television series adaptation in 2006. The anime also received a manga adaptation by Miyuki Etoo, as well as two other manga adaptations named Shin Jigoku Shōjo (New Hell Girl) in 2009, and Jigoku Shōjo Enma Ai Selection Geki Kowa Story (Hell Girl: Enma Ai Selection, Super Scary Story) in 2014.
Funimation released the first anime series on DVD in North America in 2007. Sentai Filmworks released Hell Girl: Two Mirrors, the second season, on DVD in 2010. Sentai Filmworks also released Hell Girl: Three Vessels, the third season, in the same year on DVD. Del Rey published seven out of nine volumes of the first Hell Girl manga.
Source: Comic Natalie
---