News

3rd Yo-kai Watch Film's Trailer Shows Live-Action Characters

posted on by Rafael Antonio Pineda
Sora Tobu Kujira to Double no Sekai no Daibōken da Nyan! opens on December 17
---
The official website of Eiga Yo-kai Watch: Sora Tobu Kujira to Double no Sekai no Daibōken da Nyan! (Yo-kai Watch The Movie: The Flying Whale and the Grand Adventure of the Double Worlds, Meow!), the third Yo-kai Watch film, began streaming a trailer for the film on Thursday. The trailer shows the hybrid live-action/anime concept of the film, showing many of the anime's familiar characters in their live-action counterparts.

The live-action guest cast includes (from left to right and top to bottom):
Kento Yamazaki (live-action Orange, Death Note, Your Lie in April)
Emi Takei (live-action Rurouni Kenshin, Ai to Makoto/For Love's Sake, Terraformars)
Takumi Saitou (live-action Space Battleship Yamato [2010], Ace Attorney)
Minami Hamabe (anohana: The Flower We Saw That Day live-action special's Menma)
Yuina Kuroshima (live-action The Girl Who Leapt Through Time TV series)
Yū Sawabe (from the "Haraichi" comedian duo)
Kenichi Endo (live-action Cromartie High: The Movie, Crows Zero)
The film's story is set in both an anime and a live-action world and will open in Japan on December 17. Child actor Ryōka Minamide will play main character Keita Amano in the live-action parts of the film. A new Yo-kai named Koala-nyan will be key to the plot of the double worlds.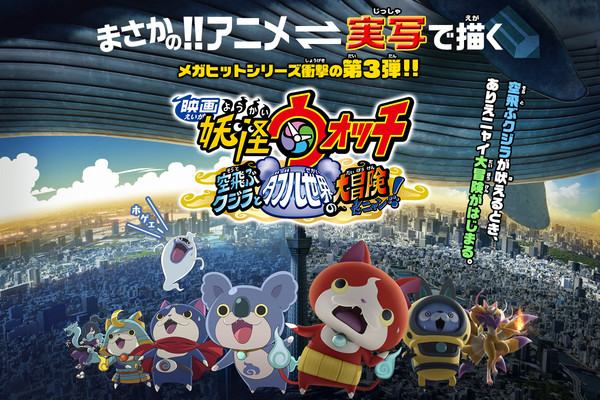 Level-5 president and CEO Akihiro Hino is serving as the executive producer for the film and is also writing the film's script.
Eiga Yo-kai Watch: Enma Daioh to Itsutsu no Monogatari da Nyan! (Yo-kai Watch The Movie: Great King Enma and the 5 Stories, Meow!), the second film in the franchise, opened in Japan last December. The film topped the Japanese opening of Star Wars: The Force Awakens in attendance, although not in box office gross, during its first week. The film stayed at #2 for five straight weeks.
Source: Oricon Style
---