News

Live-Action Project for Saki Mahjong Manga Casts Minami Hamabe as Saki

posted on by Rafael Antonio Pineda
4-episode series premieres on December 4, film in February
---
The official website of the live-action project for Ritz Kobayashi's Saki manga revealed a visual on Thursday of actress Minami Hamabe in costume as main character Saki Miyanaga. The visual emulates the cover of the manga's first compiled book volume.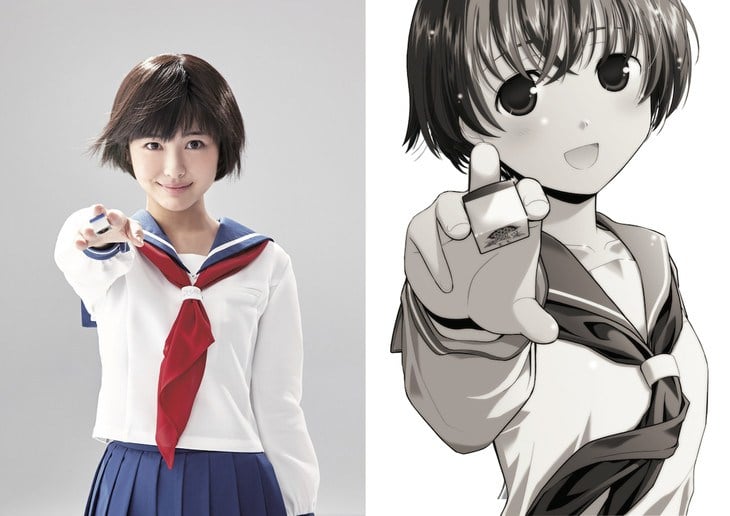 The live-action project will consist of a live-action series and a film. The series will consist of four episodes, as well as a television "special." The series will premiere on MBS on December 4, and on TBS on December 6. The special will air on MBS on January 8, and on TBS on January 10. The film will open in Japan in February.
Yūichi Onuma is directing, while Hiroyuki Ishikawa is co-directing. Hayashi Mori is penning the script. T$UYO$HI (The BONEZ) is composing the music. Other staff members include:
Photography: Yasutaka Nagano
Lighting: Jun Kodama
Art: Shūji Yamashita
Recording: Takeshi Kobayashi
Props: Yū Yamamoto
Editing: Etsuko Kimura, Shiori Kawamura
VFX Supervisor: Junji Munakata
Costumes: Miyuki Katō
Costume Production: Bandai Apparel
Hair & Makeup: Chieko Uchijō
Sound Effects: Keisuke Shibuya
Mahjong Consultants: Kenneth Tokuda, Masao Kuroki, Hirokazu Baba, Babylon
Casting: Keiichi Anda
Production: Naomichi Imai
Line Producer: Akio Motojima

Yen Press is publishing the original Saki manga in North America digitally, and it released the sixth volume on Tuesday. Yen Press describes the series:
Saki's never been a big fan of mahjong. A lifetime of being forced to play with family at holidays (and losing her money as a consequence...) has left a foul taste for the game in her mouth. When she's convinced, though, to play a game with her classmates, she discovers that not only has fending off her family left her with an uncanny ability for the game but, more surprisingly, that it can even be fun!

Is this revelation enough to cleanse Saki's distaste for the game? Can her classmates convince her to join their club, or is there just too much baggage to make it worth her while?

If you're looking for the number one mahjong manga out there, you've found it!
Kobayashi launched the manga in Square Enix's Young Gangan magazine in 2006, and Square Enix published the 15th compiled volume on March 25. The manga has since inspired five spinoff manga series. The manga is currently on break, and will return on December 2.
The original manga was adapted into a 25-episode television series in 2009, and a new television anime project titled Saki - The Nationals launched in 2014. The Saki Achiga-hen episode of side-A spinoff manga also inspired a television anime in 2012. The four-panel spinoff manga Saki Biyori also inspired an anime DVD last year.
[Via Otakomu]
---