News

Live-Action Series of Doraemon Co-Creator's Chūnen Superman Saenai-shi Manga Adds Cast

posted on by Rafael Antonio Pineda
---
The staff of the live-action television series adaptation of Hiroshi Fujimoto's Chūnen Superman Saenai-shi (Middle-Aged Superman Mr. Saenai) manga revealed additional cast and the series' title on Tuesday. The series is titled Super Salaryman Saenai-shi. The additional cast includes:

(Top row, left to right):
Tsuyoshi Muro as Koike, who takes credit for Saenai's deeds
Kento Kaku as Ikesugi, Saenai's ambitious subordinate
(Center row, left to right):
Akari Hayami as Kamata, Saenai's subordinate who thinks of him as unreliable
Tomoya Nakamura as Karino, the neighborhood patrol officer
Jiro Sato as Yonekura, a mysterious temp worker that Saenai runs into
(Bottom row, left to right):
Takashi Sasano as a mysterious old man that gives Saenai his suit
Katsumi Takahashi as Minoshima, Saenai's boss, also called the "head of parties"
Ayumu Yokoyama as Moyao, Saenai's cheeky son
In addition, Mariko Fukushima, Eriko Tomiyama, Miho Kanzawa, and Atsuhiro Inukai are part of the cast. The role of Haneko, Saenai's daughter who loves idols, will be announced at a later date.
The staff unveiled visuals of Shinichi Tsutsumi (right in picture below) and Kyoko Koizumi in costume as their characters. Tsutsumi plays the the titular Saenai, while Koizumi plays Saenai's strict wife Enko.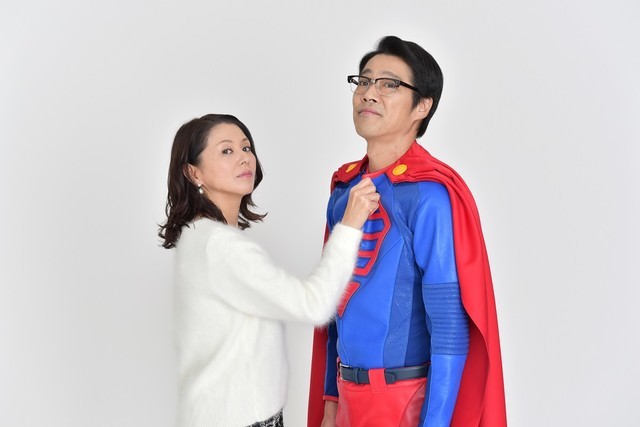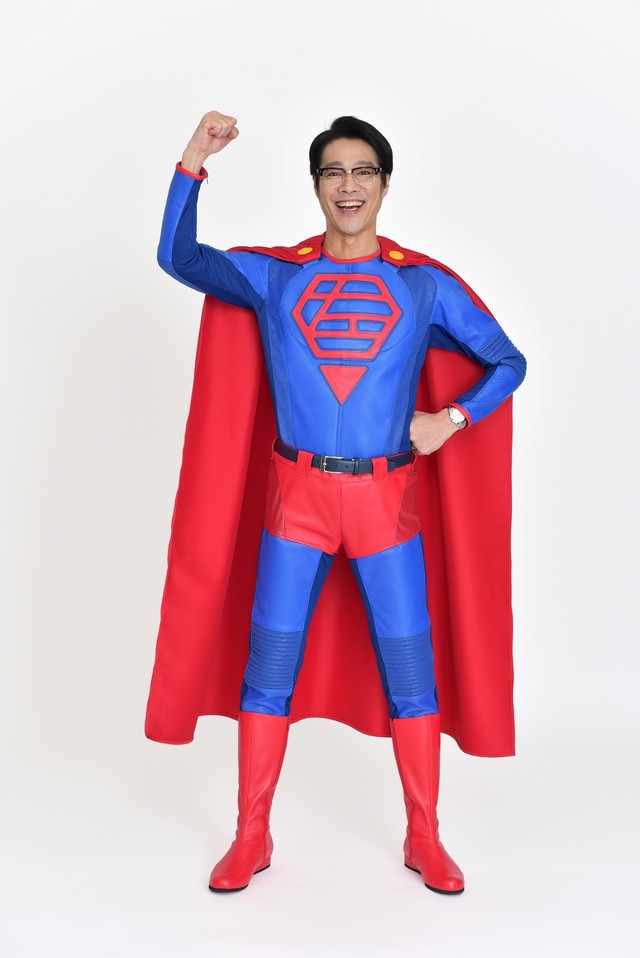 The series will premiere in January on NTV, and will air every Saturday at 9:00 p.m. Yūichi Fukuda (live-action HK/Hentai Kamen) will direct the series.
The original manga's story centers on Saenai, a mildly dissatisfied middle-aged salaryman who one day receives a super suit from a mysterious man, and undertakes a mission to protect the world.
Fujimoto serialized the manga in Futsbasha's Manga Action magazine from 1977 to 1978.
Fujimoto, whose author pseudonym is Fujiko F. Fujio, is perhaps best known as one half of the duo that created the iconic Doraemon manga. He created the manga alongside Motoo Abiko, and they worked under the pseudonym of Fujiko Fujio. When the duo split up, Abiko took the pseudonym Fujiko Fujio (A), and Fujimoto took the pseudonym Fujiko Fujio (F), later renamed to Fujiko F. Fujio. He passed away in 1996. Shogakukan reissued Chūnen Superman Saenai-shi as part of its "The Complete Works of Fujiko F. Fujio" line in 2012.
Source: Comic Natalie
---