News

Sword Art Online Ordinal Scale Anime Film Casts Sayaka Kanda

posted on by Jennifer Sherman
---
The official website for the Sword Art Online: Ordinal Scale anime film announced three new characters and cast members on Tuesday. The newly announced roles are:
Sayaka Kanda (Gamba: Gamba to Nakama-tachi's Shioji) as AR idol Yuna



Yoshio Inoue (live-action Space Brothers' Kenji Makabe) as mysterious young swordsman Eiji



Takeshi Kaga (Sinbad: Sora Tobu Hime to Himitsu no Shima's Captain Razak, live-action Death Note's Souichirou Yagami) as Augma developer Professor Shigemura



Kanda appeared at an open line-recording event for the film at a studio in Tokyo. She will also perform an insert song for the anime. The TRUSTRICK musical duo, composed of singer Kanda and guitarist Billy, announced last month that they will go on indefinite hiatus after finishing their "TRUSTRICK TRICK TOUR 2016" live tour on December 17. Both artists plan to pursue solo careers.
The film will feature a returning cast from the previous two anime series, including:
The film's all-new original story takes place after the Mother's Rosario arc, which was the final arc depicted in the TV anime's second season. Original light novel author Reki Kawahara is writing the new story for the film. Tomohiko Ito is returning from the two TV anime series and the anime special to direct the film at A-1 Pictures. Shingo Adachi is also returning from the TV anime to design the characters based on abec's original character designs, and Yuki Kajiura is returning to score the music. LiSA is returning to perform the theme song "Catch the Moment."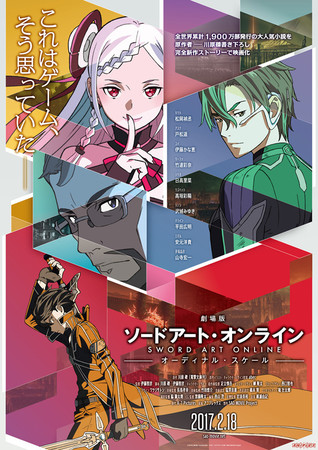 Aniplex of America will host a premiere event in Hollywood, California on March 1, before a wider theatrical release across North America. The company describes the movie's story:
In 2022, the world of virtual reality was upended by the arrival of a new invention from a genius programmer, Akihiko Kayaba, called NerveGear. It was the first full-dive system, and with it, came endless possibilities to VRMMORPGs.
In 2026, a new machine called the Augma is developed to compete against the NerveGear and its successor, the Amusphere. A next-gen wearable device, the Augma doesn't have a full-dive function like its predecessors. Instead, it uses Augmented Reality (AR) to get players into the game. It is safe, user-friendly and lets users play while they are conscious, making it an instant hit on the market. The most popular game on the system is "Ordinal Scale" (aka: OS), an ARMMORPG developed exclusively for the Augma.
Asuna and the gang have already been playing OS for a while, by the time Kirito decides to join them. They're about to find out that Ordinal Scale isn't all fun and games...
The film will open in Japan on February 18 in 150 theaters. Kadokawa had announced in October that the film would be "simultaneously released worldwide on February 18, 2017." The film's staff previously confirmed that the film will screen in about 1,000 theaters worldwide.
Source: Eiga Natalie
---