News

Kimi wa Pet/Tramps Like Us Live-Action Series' Trailer Reveals February Premiere

posted on by Rafael Antonio Pineda
Show is 1st Japanese live-action adaptation of manga in 14 years
---
The official website of the new live-action television series adaptation of Yayoi Ogawa's Kimi wa Pet (Tramps Like Us) romantic manga began streaming a trailer for the show on Thursday. The video introduces the show's characters and reveals the show's February 6 premiere on Fuji TV. The video also reveals that Ogawa's original manga has 4.2 million copies in print in Japan.
Noriko Iriyama (Peter no Sōretsu, Akahana no Sensei, pictured below right) stars in the series as Sumire Iwaya and Jun Shison (live-action From Five to Nine's Amane Hoshikawa, live-action Anohana's Yukiatsu, pictured below left) co-stars as Momo/Takeshi Goda.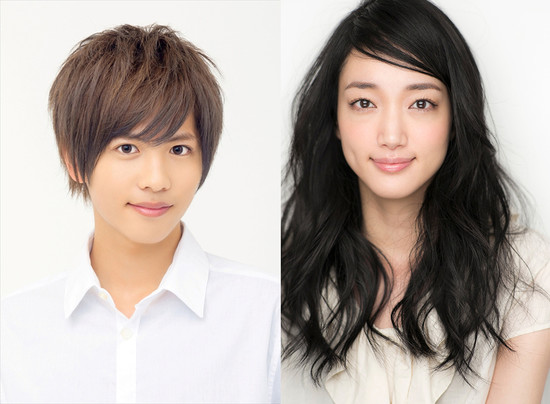 Additional cast members include Terunosuke Takezai (Dame na Watashi ni Koishite Kudasai's Hajime Kurosawa) as Shigehito Hasumi, Yurina Yanagi (Ju-on: The Final Curse's Ao) as Shiori Fukushima, former AKB48 member Kayo Noro as Yuri Shirotae, and Yūmi Shida (Kamen Rider Gaim's Mai Takatsukasa) as Rumi Shibusawa.
The series will have 16 episodes. Koga Fumie (Itazura na Kiss2 ~Love in TOKYO) is writing the scripts.

The manga and television series revolve around Sumire Iwaya, a tall and beautiful editor for a well-known newspaper who was just demoted by her boss and dumped by her fiancé for his pregnant mistress. Depressed, she encounters a homeless boy on the street who resembles her childhood pet Momo, and facetiously offers to take him home as a pet. However, the boy surprises Sumire by agreeing to the proposition.
Tokyopop published the original manga under the name Tramps Like Us in North America. The manga was previously adapted into a 10-episode live-action television series in Japan in 2003 starring Koyuki as Sumire and Jun Matsumoto as Momo. The manga also inspired a 2011 live-action Korean film starring Jang Geun-suk and Kim Ha-neul.
---