News

Aniplus HD to Air Fate/Grand Order TV Anime on New Year's Day

posted on

2016-12-25

01:00 EST
Airs at 10:00 p.m. in Indonesia/Thailand, 11:00 p.m. in Singapore/Philippines.
---
Southeast Asian channel Aniplus HD announced on Saturday that it will air the Fate/Grand Order: First Order television special on January 1, one day after the anime's airing in Japan. The special will air at 10:00 p.m. in Indonesia and Thailand, and 11:00 p.m. in Singapore and the Philippines.
Australian film distributor Madman Entertainment previously streamed an English-subtitled trailer for the anime on Thursday.

The feature-length special will premiere in Japan on December 31 at 10:00 p.m. The anime will air on the Tokyo MX, Gunma TV, Tochigi TV, and BS11 channels, and it will also simultaneously stream on Niconico.
Maaya Sakamoto (Flying Dog) is performing the theme song "Shikisai" (Color) heard in the video.
Aniplus HD describes the anime:
The story is set in 2015 AD, in the final era when magecraft thrived. The Chaldea Security Organization was formed as a special agency tasked with monitoring a world that can't be seen or fathomed with magic or science alone and preventing the ultimate downfall of mankind.

But, all of a sudden, the future Chaldea has been monitoring disappears, and that It comes to light that mankind will go extinct in 2017.

Chaldea assumes a singularity to be the cause of human extinction and starts a mission to investigate and unravel it, or, failing that, to destroy it.
The cast includes:
Nobunaga Shimazaki as Ritsuka Fujimaru, one of the Master candidates of Caldea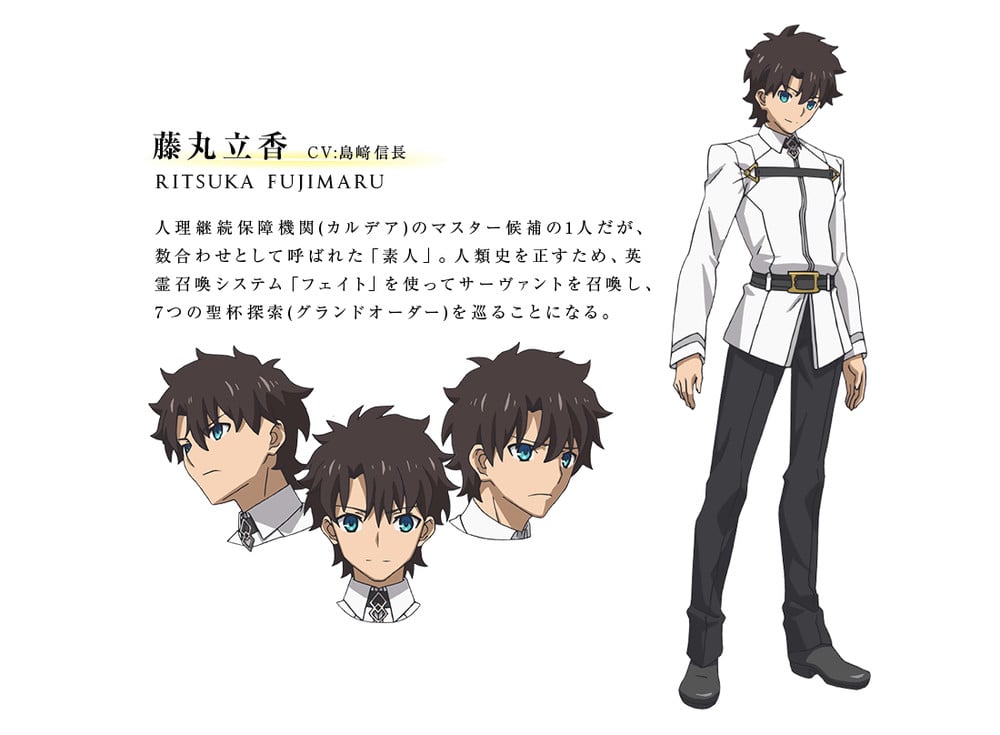 Rie Takahashi as Kyrielight Mash, a girl with an mysterious air about her, who works at Caldea
Ayako Kawasumi as Fou, a cute animal attached to Mash
Madoka Yonezawa as Olgamarie Animusufia
Kenichi Suzumura as Romani Aakiman
Tomokazu Sugita as Refu Rainōru
(Note: The staff has used multiple Romanization spellings for the characters' names.)
Hitoshi Nanba (Baki the Grappler, Gosick, Heroman) is directing the special with assistant director Takurō Tsukada at the studio Lay-duce (Magi: Adventure of Sinbad, Classroom Crisis, Go! Go! 575). Ayumi Sekine (Makura no Danshi) wrote the script based on Kinoko Nasu's original story concepts, and Keisuke Goto (Yatterman Night) is adapting Takashi Takeuchi's game character designs for animation. Takashi Akaishizawa is credited with design works. Ryo Kawasaki (Luger Code 1951, Reikenzan: Eichi e no Shikaku) is composing the music. Takeshi Takadera is directing the sound at Half H.P Studio.
The anime special is actually part of a longer year-end special, Fate Project Ōmisoka TV Special ~First & Next Order~ (Fate Project New Year's Eve TV Special ~First & Next Order~).
The original game has been downloaded over 7 million times since it launched on Android and iOS devices in summer 2015.
---