News

Live-Action Resident Evil, Mogura no Uta Films Debut in Box Office Top 10

posted on by Karen Ressler
---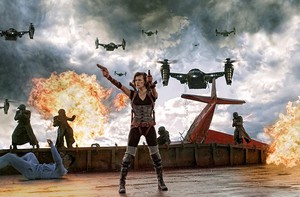 The Resident Evil: The Final Chapter (Biohazard the Final) live-action film opened on December 23 in Japan and ranked #1 at the Japanese weekend box office. The film sold 401,000 tickets on Saturday and Sunday to earn 619 million yen (about US$5,285,000). In total, including Friday sales, the film sold 644,000 tickets to earn 978 million yen (about US$8,350,000).
The film opened in Japan first. It will open on January 27 in the United States.

Mogura no Uta: Hong Kong Kyōsōkyoku (Mole Song: Hong Kong Capriccio), the sequel film to the live-action film adaptation of Noboru Takahashi's Mogura no Uta (Mole Song) crime manga, opened on December 23 and ranked #5 at the Japanese weekend box office. The film sold 158,000 tickets on Saturday and Sunday to earn 223 million yen (about US$1,904,000).
By comparison, the first film, Mogura no Uta: Senyū Sōsakan Reiji, earned about 282 million yen when it opened on February 15, 2014, and it ranked #1 for several weeks. The film went on to earn 2.2 billion yen (about US$18 million) at the box office.

Eiga Yo-kai Watch: Sora Tobu Kujira to Double no Sekai no Daibōken da Nyan! fell from #1 to #2 in its second weekend. In its opening weekend, the film earned 608,033,100 yen (about US$5.189 million) on 415 screens from Saturday to Sunday.
Makoto Shinkai's your name. (Kimi no Na wa.) anime film dropped from #6 to #7 in its 18th weekend. The film has earned 20,897,904,500 yen (about US$178 million) and sold 16,079,937 tickets in Japan as of December 18, 115 days after it opened in Japan.
Kamen Rider Heisei Generations: Dr. Pac-Man vs. Ex-Aid & Ghost with Legend Rider, the New Kamen Rider film in Toei's Movie Taisen (Movie War) series of crossover films, dropped from #7 to #9 in its third weekend.

Sunao Katabuchi's (Mai Mai Miracle, Black Lagoon) In This Corner of the World anime film stayed at #10 in its seventh weekend. The film opened at 63 theaters, but more theaters are adding screenings due to the film's popularity. The film's website now lists more than 200 theaters that are screening or will screen the film.
The Monster Strike The Movie and Suki ni Naru Sono Shunkan o: Kokuhaku Jikkō Iinkai (I wait for the moment you love me. Confession Executive Committee) anime films fell off the chart this week in their third and second weekends, respectively.
Sources: Kōgyō Tsūshin, Movie Walker
---