News

Schoolgirl Strikers Animation Channel TV Anime's 2nd Promo Video, 4 More Ads Streamed

posted on by Crystalyn Hodgkins
Series based on
Square Enix
's light novel-style RPG app debuts on January 6
---
The official website for Schoolgirl Strikers Animation Channel, the television anime adaptation of Square Enix's smartphone "light novel-style RPG" app Schoolgirl Strikers, began streaming the show's second promotional video on Thursday.
Warner Bros. also began streaming four more character commercials on Wednesday, for the characters Tsubame Miyama, Satoka Sumihara, Mana Namori, and Yumi Sajima. Warner Bros. previously streamed a character commercial for Io Yaginuma on Wednesday. The videos preview the in-story group Altile Torte's opening theme song "Mirai-kei Strikers" (Futuristic Strikers).
Tsubame Miyama

Satoka Sumihara

Mana Namori

Yumi Sajima

The in-story group Altile Torte is composed of characters Tsubame Miyama, Satoka Sumihara, Io Yaginuma, Yumi Sajima, and Mana Namori. Satoka Sumihara and Mana Namori are similarly performing the ending theme song "Kitto Wonderfo!" Five character song CDs — one for each of the singing characters — will go on sale on January 25. Each CD will have the five-singer version of the opening song, a solo version, and a unique character song. The single for the ending theme will also go on sale on January 25 with the ending song itself and a second character duet song.
The anime will premiere on Tokyo MX and BS11 on January 6 at 24:30 (effectively January 7 at 12:30 a.m.). The series will also air on AT-X, KBS Kyoto, and Sun TV. The anime will stream in Japan on AbemaTV and d Anime Store starting on January 7, and a week later on 16 different streaming services, including YouTube, niconico, PlayStation Video, and Amazon Video.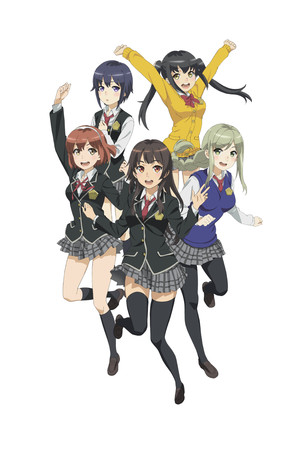 Hiroshi Nishikiori (A Certain Magical Index, Azumanga Daioh) is directing the anime at J.C. Staff. Takao Yoshioka (The Testament of Sister New Devil, Sekirei , High School DxD) is supervising the series scripts, and Takanari Ishiyama (Square Enix) is supervising the scenario. Yuichi Tanaka (A Certain Magical Index) is adapting the game's characters designs by Gen Kobayashi (Square Enix) for anime. Shō Okamura (Square Enix) is supervising the designs. Mizuto Suzuki and Kengo Tokusashi are composing the anime's music, just as they did for the game.
The game's cast members who are also voicing their characters in the anime include:
Kaori Ishihara
as Tsubame Miyama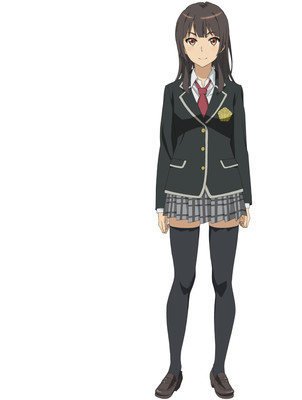 The game is set at Goryōkan Academy, a new private senior/junior high school for girls with a vast downtown campus. This highly popular school has "another face" — a secret hidden side. The school organizes and trains the special unit Fifth Force to protect the world from invisible supernatural entities known as "Oburi" that are devouring the world. The student body will choose a team of five trained with powers against the Oburi to perform missions. The school appoints a new team leader to assemble the five students. Square Enix launched the game in April.
---