News

1st Fate/stay night Heaven's Feel Film's 1st Trailer Streamed

posted on by Jennifer Sherman
Trilogy adapting 3rd route from original visual novel premieres in 2017
---
The official website for Fate/stay night franchise began streaming the first trailer for the first film in the three-part Fate/stay night: Heaven's Feel anime film project on Saturday. (Note: The official video on the website is region-locked to Japan.)
The February 2017 issue of Kadokawa's Monthly Newtype magazine, which ships in Japan on January 10, will include a feature on the Fate franchise's upcoming works for 2017. The feature will publish information about the Fate/Grand Order: First Order- television special, Fate/stay night: Heaven's Feel films, Fate/Extra Last Encore television anime, Fate/Apocrypha, and Fate/kaleid liner Prisma Illya. The issue will also include original illustrations by the original Fate/stay night visual novel's character designer Takashi Takeuchi.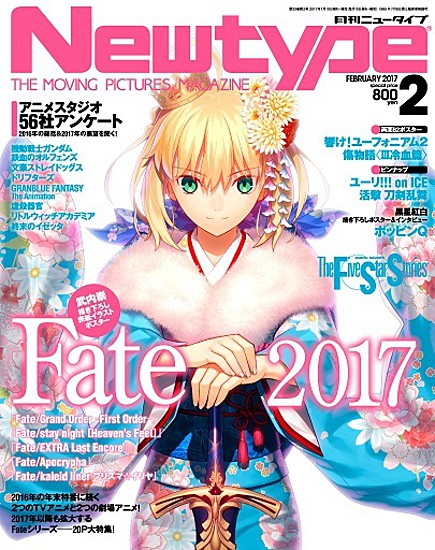 The staff of the Fate/stay night franchise announced in March that the film project will be split into three separate films, with the first premiering sometime in 2017. The project was initially announced in 2014 as a single film.

Tomonori Sudō (Fate/stay night: Unlimited Blade Works, Fate/Zero animation director) is directing the films, and ufotable is animating the work. Yuki Kajiura (Fate/stay night: Unlimited Blade Works, Fate/Zero) is composing the music. The initial announcement revealed that Takahiro Miura was providing the storyboards.
Note: The summary below reveals spoilers about the Fate/stay night story. Highlight to read.
[The story of the film will revolve around Sakura Matō, the younger sister by blood to Rin Tohsaka, but when she was young, Sakura was sent to the Matō household as an adopted daughter. There, she was given torturous training in order to give her powerful magic powers. Sakura was not supposed to enter the Holy Grail War, but due to her getting into a romantic relationship with Shirō, the passion hidden within herself and her mental restraints go berserk. Sakura becomes a large game-changer in the Holy Grail War, and forces Shirō to walk toward a cruel fate.]
"Heaven's Feel" is a route from the original visual novel. A manga adaptation of the route launched in May 2015.
The TV anime adaptation of Fate/stay night's 'Unlimited Blade Works' route premiered in October 2015. The initial Fate/stay night anime premiered in 2005.
Thanks to Dennis R. for the embedded video.
---