News

Dies Irae Visual Novel's Localization Kickstarter Meets Goal

posted on by Karen Ressler
Release will be based on 2012 PSP, PC version of game with enhanced visuals, slated for May 2017
---
Visual novel publisher Light's Kickstarter campaign to localize its Dies irae adult visual novel in English met its goal of US$160,000 on Wednesday.
The project launched on December 15 and will end on Friday. As of press time the project has earned US$163,344.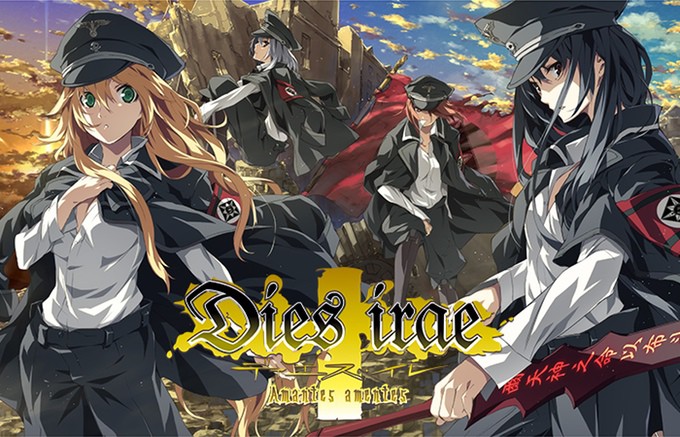 The localization will be based on the Dies irae ~Amantes amentes~ PlayStation Portable and PC version of the game, and will feature expanded resolution options, widescreen support, and enhanced effects. Violent scenes will also be uncensored from the Japanese version, and the game will have a separate patch for adult content. Light will release the localized game on Steam in two parts, with the first covering Kasumi and Marie's routes, and the second part covering Kei and Rea's routes. Both parts have an estimated release date of May 2017, with the separate patch for adult content coming three months later.
Backer rewards include physical and digital copies of the game, physical and digital copies of the game's soundtrack, rubber straps, T-shirts, tapestries, a special certificate, a replica shikishi with art by G-Yuusuke, full-size color shikishi, physical edition signed by G-Yuusuke, and the backer's name in the credits.
The game is getting a television anime adaptation slated for fall 2017. The English Kickstarter project for the original game revealed that Light has "decided to distribute [the anime] in English-speaking regions as well."
The game and anime's story features an alternate history of World War II. On May 1, 1945 in Berlin, as the Red Army raises the Soviet flag over the Reichskanzlei, a group of Nazi officers conduct a ritual. For them, the slaughter in the city is nothing but the perfect ritual sacrifice in order to bring back the Order of the 13 Lances, a group of supermen whose coming would bring the world's destruction. Years later, no one knows if this group of officers succeeded, or whether they lived or died. Few know of their existence, and even those who knew began to pass away as the decades passed.
Now in December in the present day in Suwahara City, Ren Fujii spends his days at the hospital. It has been 2 months since the incident that brought him to the hospital: a fight with his friend Shirou Yusa where they almost tried to kill each other. He tries to value what he has left to him, but every night he sees the same dream: A guillotine. Murderers who hunt people, and the black clothed knights who pursue the murderers. He is desperate to return to his normal, everyday life, but even now he hears Shirou's words: "Everyone who remains in this city eventually loses their minds."
Light previously ran a successful crowdfunding campaign on the UNEEDZONE.jp website from May-July 2015 for the anime project, raising 96,560,858 yen (about US$792,000) from 5,188 backers. The original goal of the campaign was 30 million yen (about US$246,000).
Light released the Dies irae ~Interview with Kaziklu Bey~ side-story spinoff game in March.
Kazuomi Minatogawa (M3 ~Sono Kuroki Hagane~/M3 the dark metal manga) is drawing a long-term manga adaptation that debuted in Kadokawa's Dengeki Maoh magazine on January 27, 2016. Light plans to have the manga continue on even after the anime has finished airing. Additionally, Nitroplus Blasterz scenario writer and School-Live! scriptwriter Ryō Morise wrote a novel adaptation that shipped last spring.
The original Dies irae -Also sprach Zarathustra- adult visual novel shipped for PCs in 2007. The Dies irae Also sprach Zarathustra -die Wiederkunft- game with additional scenarios also shipped for PCs in 2007. The Dies irae ~Acta est Fabula~ and Dies irae ~Acta est Fabula~ -Scharlachrot Grun- games then shipped for PCs in 2009. Additionally, Light shipped the Dies irae ~Amantes amentes~ game on the PlayStation Portable in June 2012 and on PCs in August 2012, and then released a smartphone port for Android and iOS devices.
---