News

1st Live-Action Sagrada Reset Film's Trailer Highlights Time-Traveling Story

posted on by Rafael Antonio Pineda
1st of 2 films opens on March 25
---
The official website for the live-action films of Yutaka Kōno's teen science-fiction/fantasy light novel series Sagrada Reset began streaming a trailer for the first film on Friday. The video outlines the film's time-traveling story.
The first film, "Kako o Torimodosu - Zenpen" (Take Back the Past - Part 1), opens on March 25, and the second film, "Mirai o Inoru - Kōhen" (Pray for the Future - Part 2), opens on May 13.
The cast includes: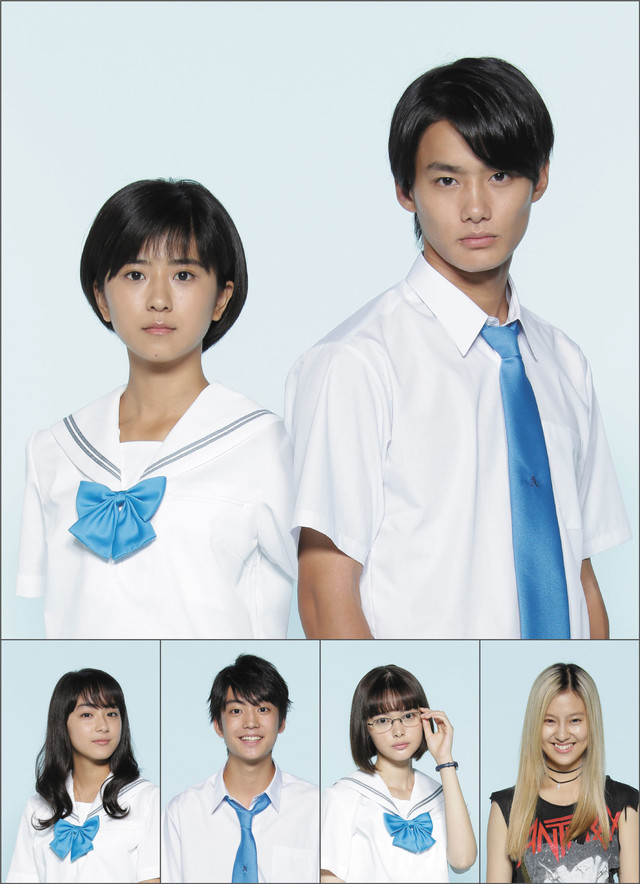 Yuina Kuroshima (top photo, left) as the female lead Misora Haruki
Shūhei Nomura (top photo, right) as the male lead Kei Asai
Bottom row, from left to right:
Yūna Taira as Sumire Sōma, a classmate who was dealt a tragedy during a "reset"
Kentarō as guitar-playing and singing Tomoki Nakano
Tina Tamashiro as Yōka Murase, who possesses super strength
Yuri Tsunematsu as Eri Oka

Mariko Kaga (top left) as a witch who knows the future. She will only appear in the first movie.
Mitsuhiro Oikawa (bottom left), as Masamune Urachi, the Sakurada City Administration Bureau task force's leader. He will only appear in the second movie.
(Top row, left to right):
Rei Okamoto as Sasane Ukawa, an Administration Bureau member with the power to change objects
Kenshirō Iwai as Yōsuke Sakagami, Kei's upperclassman with the power to copy abilities
Yuka Yano as Mirai Minami, Kei and Haruki's classmate who survived an accident thanks to a "reset"
(Middle row, left to right):
Makoto Okunaka as the witch in her younger days
Hisashi Yoshizawa as Shintarō Tsushima, an Administration Bureau member and a teacher at Ashiharabashi High School, which both Kei and Haruki attend
Tomomi Maruyama as Kagaya, an Administration Bureau member who can lock anything
(Bottom row, left to right):
Arisa Nakajima as Sakuin, an Administration Bureau member who can ferret out any lie.
Gorō Ōishi as Hiroyuki Sasano, who can go inside any photograph (first film only)
Akiko Yagi as Yōko Asai, Kei's mother (second film only)
The band flumpool is performing the song "Last Call" as the ending theme song for the first film, as well as "Namida Reset" (Tear Reset), the ending theme song for the second film.

The novels' story is set in a town called Sakurada, where almost half the population possess some form of special powers. The story centers on two high school students. Kei Asai has the ability to perfectly remember anything he sees and hears, while Misora Haruki can turn back or "reset" time for a maximum of three days.
Both students are members of their school's "Service Club," which their town's administration bureau uses to observe people with powers and protect the peace. By using their powers together (Kei can remember things even when time has been reset), they solve cases for the club. Kei learns of the "MacGuffin" stone, which looks like a worthless black stone, but in reality will turn out to be the stone upon which the existence of Sakurada will hinge on.
Director Yoshihiro Fukugawa (Hanbun no Tsuki ga Noboru Sora, In His Chart) began shooting the films' two-month principal photography on September 17. Kei Haruna (live-action Erased, Aozora Yell) is producing the project, and the staff is aiming for a medium-sized release in about 200 theaters in Japan.
The books is also getting a television anime by David Production that will premiere in April.
---