×
remind me tomorrow
remind me next week
never remind me
Subscribe to the ANN Newsletter • Wake up every Sunday to a curated list of ANN's most interesting posts of the week.
read more
News

Gundam.info Streams Gundam Thunderbolt Anime for Free for Limited Time

posted on by Jennifer Sherman
Net anime's 1st 4-episode season available with English subtitles
---

The
Gundam.info
portal site
announced
on Thursday that the first anime based on
Yasuo Ohtagaki
's
Mobile Suit Gundam Thunderbolt manga
will be available to stream for free for a limited time. The episodes will be available with English subtitles.
The first episode is currently streaming with English, Chinese (Simplified), Chinese (Traditional), and Korean subtitles until February 19 at 10:00 p.m. EST. One episode will stream for each of the following three weeks:
Episode 2: February 19 at 10:00 p.m. EST to February 26 at 10:00 p.m. EST
Episode 3: February 26 at 10:00 p.m. EST to March 5 at 10:00 p.m. EST
Episode 4: March 5 at 10:00 p.m. EST to March 12 at 10:00 p.m. EST
The website describes the story:
It is Universal Century 0079, at the end of the One Year War between the Earth Federation and the Principality of Zeon.


The space colonies of Side 4, or Moore, were previously destroyed by a Zeon attack, and many colonists lost their lives. Side 4 became a shoal zone filled with the wreckage of destroyed colonies and warships, lit by constant flashes of lightning due to collisions between electrified debris. It soon came to be known as the "Thunderbolt Sector."


The Moore Brotherhood, an Earth Federation Forces unit made up of surviving citizens from Moore, set out to exterminate the Zeon forces in the Thunderbolt Sector in order to reclaim their homeland. To halt the Federation advance, the Zeon forces deployed their own Living Dead Division, which was established to collect combat data on soldiers with prosthetic limbs.


Io Fleming, though part of the Moore Brotherhood, hates being tied down by his homeland and family history. Daryl Lorenz, having lost his legs in earlier battles, is now an ace sniper of the Living Dead Division. When they confront each other on the battlefield, they will reach a mutual realization. These two are destined to kill each other.
Ohtagaki's original manga is inspiring an second season that will debut with the fifth episode on March 24. The sixth, seventh, and eighth episodes will premiere on April 28, May 31, and June 30, respectively. Episodes will again be available via an EST (Electronic Sell Through) service that allows purchasers to download the episode or through a TVOD (Transactional Video on Demand) service that allows rental viewing for a set period.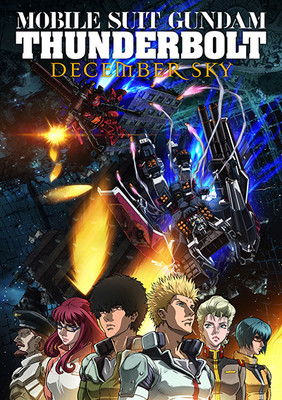 The first season of the net anime debuted in December 2015, and the fourth and final episode began streaming in April. The first season received a director's cut edition titled Mobile Suit Gundam Thunderbolt: December Sky, which includes additional scenes. Right Stuf released an import edition Blu-Ray Disc of the director's cut with both English and Japanese audio tracks on July 2.
Ohtagaki launched the manga in Shogakukan's Big Comic Superior magazine in March 2012, and Shogakukan published the ninth compiled book volume on January 30. Viz Media publishes the manga in English, and shipped the manga's first volume in November. The second volume will ship in North America on February 21.
Gundam.info has already streamed various anime titles in the Gundam franchise for limited periods. The website streamed the Mobile Suit Gundam Wing: Endless Waltz OAV series, Gundam Build Fighters Try Island Wars special, and Mobile Suit Gundam - The Movie Trilogy films last year.
---