News

One Piece Anime Casts Kousuke Toriumi as Adult Stelly

posted on by Jennifer Sherman
Vivi
, Shirahoshi return in episode 777
---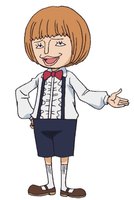 The official website for the One Piece franchise announced on Friday that Kousuke Toriumi (Hakuōki's Hajime Saitō, Naruto's Kiba Inuzuka) will play Stelly as an adult. The character, Sabo's adopted younger brother, appeared with Luffy and Ace in previous episodes depicting their childhood.
Toriumi will debut as Stelly in the anime's 777th episode, "Reverie e Ōjo Vivi to Shirahoshi-hime" (To Reverie, Princess Vivi and Princess Shirahoshi) on Sunday. As the title indicates, Princess Vivi and the giant mermaid Princess Shirahoshi appear in the episode. The website posted images to preview the upcoming episode, including Vivi's design for after the two-year timeskip.

Toriumi played Jim in the One Piece: Protect! The Last Great Stage television special in 2003.
The show's Zou Arc premiered on July 28 in the show's 751st episode. The anime had featured a short anime-original "Silver Mine Arc" after the Dressrosa Arc ended before launching into the Zou Arc.
Sources: Anime! Anime!, MoCa News
---