News

SM Cinema Adds Wednesday Screenings for Sword Art Online: Ordinal Scale Film in Philippines

posted on by Rafael Antonio Pineda
SM Cinema previously extended 1-day limited engagement to entire weekend
---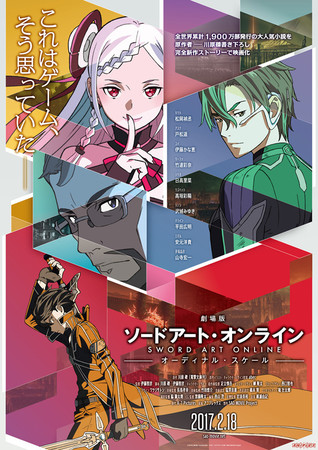 Philippine cinema chain SM Cinema announced on Monday that the Sword Art Online: Ordinal Scale anime film will receive additional screenings in other SM Cinema venues nationwide starting on Wednesday. SM Cinema will announce screening venues and schedules "soon."
SM Cinema screened the film in a limited engagement on Saturday at SM Megamall. The film was scheduled for only one screening on Saturday, but a new screening was added after the first screening was fully booked. SM Cinema added screenings on Sunday soon after. The screening took place alongside the film's opening day in Japan, and similar screenings in other Southeast Asian territories.
The film is still scheduled for a wide opening in March.
The film's staff previously confirmed that the film will screen in about 1,000 theaters worldwide.
Aniplex of America, the film's United States distributor, describes the story:
In 2022, the world of virtual reality was upended by the arrival of a new invention from a genius programmer, Akihiko Kayaba, called NerveGear. It was the first full-dive system, and with it, came endless possibilities to VRMMORPGs.
In 2026, a new machine called the Augma is developed to compete against the NerveGear and its successor, the Amusphere. A next-gen wearable device, the Augma doesn't have a full-dive function like its predecessors. Instead, it uses Augmented Reality (AR) to get players into the game. It is safe, user-friendly and lets users play while they are conscious, making it an instant hit on the market. The most popular game on the system is "Ordinal Scale" (aka: OS), an ARMMORPG developed exclusively for the Augma.
Asuna and the gang have already been playing OS for a while, by the time Kirito decides to join them. They're about to find out that Ordinal Scale isn't all fun and games...
The film opened in Japan on Saturday in 150 theaters, and is currently screening.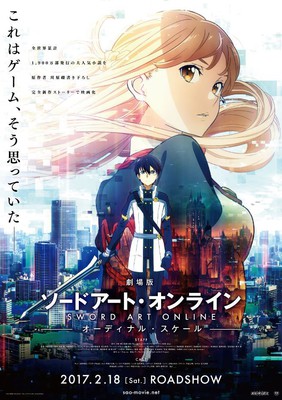 The film features a returning cast from the previous two anime series, including:
Yoshitsugu Matsuoka as Kirito
Haruka Tomatsu as Asuna
Rina Hidaka as Silica/Keiko
Ayahi Takagaki as Lisbeth/Rika
Miyuki Sawashiro as Sinon/Shino
Hiroaki Hirata as Klein/Ryotaro
Kanae Ito as Yui
Ayana Taketatsu as Leafa/Suguha
Hiroki Yasumoto as Agil/Andrew
Kouichi Yamadera as Akihiko Kayaba

The film also added three new characters and cast members:
Sayaka Kanda as the AR idol Yuna
Yoshio Inoue as the mysterious young swordsman Eiji
Takeshi Kaga as the Augma developer Professor Shigemura

Original light novel author Reki Kawahara wrote the new story for the film. Tomohiko Ito returned from the two TV anime series and the anime special to direct the film at A-1 Pictures. Shingo Adachi also returned from the TV anime to design the characters based on abec's original character designs, and Yuki Kajiura returned to score the music. LiSA performed the film's theme song "Catch the Moment," and Kanda also performed insert songs for the film.
---