News

Aniplus Asia to Air Simulcast of New Berserk, Danmachi: Sword Oratoria Anime

posted on by Rafael Antonio Pineda
---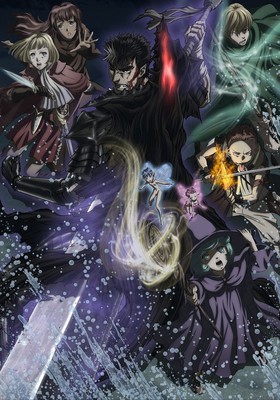 Aniplus Asia revealed to ANN that it will air a simulcast of the new season of the Berserk television anime and the Is It Wrong to Try to Pick Up Girls in a Dungeon? Sword Oratoria (Dungeon ni Deai o Motomeru no wa Machigatteiru no Darō ka? Gaiden: Sword Oratoria) television anime. It also revealed that it will begin its simulcast of the second season of Attack on Titan on April 2 at 6:00 p.m. GMT +8.
Berserk will premiere on April 7 at 10:30 p.m. GMT +8, one hour after the Japanese broadcast. The anime will premiere on WOWOW in Japan on April 7.
The premiere will show the first two episodes of the new arc (episodes 13-14).
The show's returning and new cast includes:
Hiroaki Iwanaga as Guts
Kaoru Mizuhara as Puck
Yōko Hikasa as Farnese
Kazuyuki Okitsu as Serpico
Hiro Shimono as Isidro
Toa Yukinari as Casca
Chiwa Saito as Schierke
Satomi Arai as Ivalera
Sumi Shimamoto as Flora
Kenta Miyake as Zodd
Yoshino Nanjō as Sonia
Takahiro Sakurai as Griffith
Akio Ohtsuka as Skull Knight
Unshou Ishizuka as Narrator
The staff is returning from the first arc. 9mm Parabellum Bullet, who sang the previous arc's opening song, are again performing this arc's opening song "Sacrifice." Similarly, the previous arc's ending theme song singer Nagi Yanagi is collaborating with Yoshino Nanjō to perform the ending theme song "Issai wa Monogatari" (Everything is the Story). Susumu Hirasawa's "Hai yo" and "Ash Crow" songs return as insert songs for the anime.
The anime adapts Kentarou Miura's dark fantasy manga of the same name. Miura himself is serving as executive supervisor for the series. Shin Itagaki (Basquash!, Ben-To, Teekyū) is directing the anime. Makoto Fukami (Psycho-Pass, Ōsama-tachi no Viking, Yuruyuri San Hai!) is supervising the series scripts in collaboration with Takashi Yamashita (Cencoroll). Hisashi Abe (Pet Shop of Horrors, Gunslinger Girl, Chobits) is designing the characters. Shiro Sagisu (Berserk films, Neon Genesis Evangelion, Megazone 23) is composing the music. LIDEN FILMS is credited for production, while GEMBA and Millepensee are credited for animation production.
The story follows Guts, a superhumanly strong warrior who wields a large sword, as he wanders a dark medieval world filled with demons, corrupt and decadent nobles, and other horrors. Every night, he is assailed by demons, attracted to the curse branded on him after a traumatic event. He makes his way through the world on a quest to slay a former friend turned demon, who took everything away from him.
The new television anime project premiered in Japan in July 2016, and aired for 12 episodes. Aniplus Asia aired a simulcast of the anime.

Is It Wrong to Try to Pick Up Girls in a Dungeon? Sword Oratoria will premiere on April 14 at 24:30. GMT +8 (effectively April 15 morning), one hour after the Japanese broadcast. The anime will premiere on Tokyo MX, KBS Kyoto, Sun TV, BS11, and AbemaTV in Japan on April 14 at 24:30 (effectively April 15 at 12:30 a.m.).
The project serves as the 10th project to commemorate GA Bunko's 10th anniversary. The anime's previously revealed cast includes:
Saori Ōnishi as Aiz Wallenstein
Mutsumi Tamura as Finn Deimne
Juri Kimura as Lefiya Viridis
Nobuhiko Okamoto as Bete Loga
Rie Murakawa as Tiona Hiryute
Minami Takahashi as Tione Hiryute
Ayako Kawasumi as Riveria Ljos Alf (replacing Risa Taneda)
Kenji Nomura as Gareth Landrock
Yurika Kubo as Loki
Youhei Suzuki (The "Hentai" Prince and the Stony Cat., Urara Meirochō) is serving as the show's new director at J.C. Staff. Writer Hideki Shirane, character designer Shigeki Kimoto, and composer Keiji Inai are returning from the original anime. Yuka Iguchi is returning to perform the opening theme song "RE-ILLUSION," and Kano will perform the ending theme song "day by day."
GA Bunko describes the anime's story:
Sword princess Aiz Wallenstein. Today, once again, the strongest female swordsman heads to the giant labyrinth known as the "Dungeon" along with her allies. On the 50th floor where mysteries and threats such as a decayed dragon's corpse that crumbles to ash and an irregularity that creeps ever closer to the party loom, Aiz calls for the wind and heads deeper into the darkness of the Dungeon. Eventually, she finds herself meeting a boy for the first time. "Um, are you OK?" In the Labyrinth City of Orario, the contrasting stories of the boy and the girl intersect!
The Sword Oratoria spinoff light novels have also inspired an ongoing manga adaption by Takashi Yagi on Square Enix's web magazine Gangan Online.
J.C. Staff adapted the original Is It Wrong to Try to Pick Up Girls in a Dungeon? light novel series into a television anime in 2015, and Aniplus Asia aired the anime as a simulcast as it aired in Japan. It also aired the original video anime (OVA) on February 14 and 17. The OVA debuted in Japan on December 7 with both a Blu-ray Disc and DVD release.
---