News

New Inuyasha Stage Play Reveals Sesshōmaru, Miroku, Kaede, Naraku Visuals

posted on by Jennifer Sherman
April play holds live viewing in 60 theaters
---
The official website for the upcoming stage play of Rumiko Takahashi's Inuyasha manga revealed character visuals for Sesshōmaru, Miroku, Kaede, and Naraku on Friday.
Hiroki Sana as Sesshōmaru


Yukihiro Takiguchi as Miroku


Kaoru Noguchi as Kaede


Ryou Kimura as Naraku


The staff previously revealed visuals for the three main characters.
Golden Bomber member Yutaka Kyan (Fushigi Yûgi stage play) as the titular Inuyasha

Yumi Wakatsuki (Nogizaka46 member) as Kagome Higurashi


Junna Itō (Nogizaka46 member) as Kikyo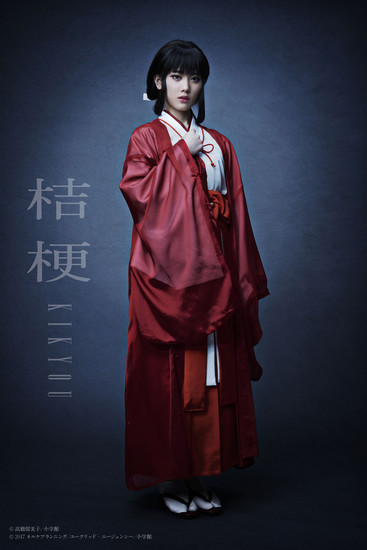 Other cast members include Kenichi Kobayashi as Oshō, Tatsuya Ogasawara, Masachika Yuasa, Kenji Uraie, Toshiki Tanabe, Yūsuke Asakura, Hayato Iwakura, Shōya Kamikubo, Kento Kimura, Kayo Kaneko, and Reika Ishii.
The stage play will run from April 6 to 15 at The Galaxy Theatre in Tokyo, and the regular ticket sales period will begin on Saturday. The play will hold a live viewing event at 60 theaters in Japan for the final performance on April 15, and advance tickets will go on sale on April 8. Isamu Kayano (Touken Ranbu, Macross: The Musicalture, Saint Seiya) is directing at Nelke Planning, and actor/voice actor Takeshi Matsumura wrote the script.

The series previously received a stage play adaptation that ran from April-May 2000 at theaters across Japan. A second run of the play ran from January-February 2001 at the Akasaka ACT Theater in Tokyo. Masashi Todayama directed and Hidenori Inoue produced both runs of the play, which starred Atsuhiro Satō and Kyōko Tōyama.
Takahashi launched the manga in Weekly Shōnen Sunday in 1996, and ended it in 2008. Viz Media licensed and published all 56 volumes of the manga in North America, and it describes the series:
After falling into an old well and into ancient Japan, Kagome discovers that her destiny is linked to the dog-like half demon called Inuyasha! As Kagome learns more about her connection to the past and to Inuyasha, she comes into conflict with the terrible demons that are drawn to the Shikon Jewel, including Inuyasha's own half brother, Sesshomaru. Finding the shards of the Shikon Jewel is going to require powerful magic, strange allies, and a strong heart. Kagome's got plenty of heart, but she's going to need Inuyasha's help for the rest of it, and he may not be so willing to lend a hand!
The manga inspired a 167-episode anime series that ran from 2000-2004 and a 26-episode sequel anime titled InuYasha: The Final Act that ran from 2009-2010. Netflix streamed the original series as part of its Instant Watch library. Adult Swim's Toonami network broadcasted the original series in North America until 2014, and broadcasted the sequel series from 2014-2015. Viz Media streamed the sequel series as it released in Japan, and later released an English-dubbed version of the series in 2012. Viz also licensed and released the original anime series for DVD and the sequel series for DVD and Blu-ray Disc in 2012.
The series has inspired four movies and a 30-minute anime short. Takahashi released a special one-shot charity manga chapter of the series to raise money to help areas devastated by the March 2011 tsunami and earthquake in Japan.
Source: Anime! Anime! (Kōtarō Nakase)
---