News

Time Bokan 24 TV Anime Gets 2nd Season

posted on by Egan Loo
---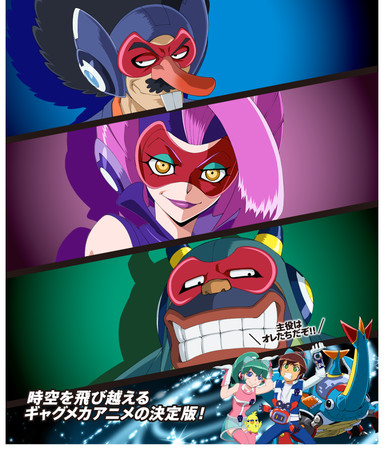 Anime studio Tatsunoko Production's booth at AnimeJapan revealed on Saturday that the Time Bokan 24 television anime will get a "Season 2." The series will air on NTV and Yomiuri TV.
The first season premiered on October 1 and ended with the 24th episode on March 18. Crunchyroll streamed the series as it aired.
Crunchyroll describes the story:
The history in our textbooks are all wrong?! In the 24th century, humankind accomplished the invention of a time machine, "Time Bokan". As they discover the truth about history, they realize that the history written in their textbooks are all wrong! To correct their knowledge of history, the government developed an organization called JKK (Space-time Administrative Bureau). Our hero Tokio is recruited by Karen, a girl from the future to join the JKK. Together they travel through time to discover the true history, along with fighting the "Akudarma" a villainous group whose goal is to prevent the discovery of the truth!
The Bokan Mecha transforms and combines in the anime. The villains in the story include Bimajo, Tsubuyakkiy and Suzukky, who are employed by History Paradise — the world's largest textbook company — to keep history as it was written in the textbooks.
The anime stars:
Akihisa Wakayama as Tokio
Akari Kitō as Calen
Eri Kitamura as Bimajo
Hiroaki Hirata as Tsubuyakky
Kenta Miyake as Suzukky
Takayuki Inagaki (World Break: Aria of Curse for a Holy Swordsman, Rosario + Vampire) directed the series, and Yoichi Kato (Yo-kai Watch, Aikatsu!) was in charge of series composition. Akihiro HIno (Yo-kai Watch, Inazuma Eleven story) was the creative producer. Level-5 contributed the original character and mechanical designs and planned the project with Tatsunoko Productions. Kunio Okawara (Mobile Suit Gundam, Yatterman, Armored Trooper Votoms) worked on the anime's mechanical design.
This October 19 will mark Tatsunoko Production's 55th anniversary.
---