News

Room Mate Anime's Promo Video Previews Theme Song

posted on by Rafael Antonio Pineda
Main cast perform theme song for April 12 anime
---
The official website for the One Room anime began streaming a promotional video for the Room Mate television anime series on Thursday. The video previews the anime's theme song "Kimi Iro Smile" (Your Color Smile), performed by the anime's three main cast members: Tomoaki Maeno, Natsuki Hanae and Kousuke Toriumi.
The series of five-minute shorts will premiere on Tokyo MX on April 12 at 10:40 p.m., and will also air on Sun TV. The show will also stream on Niconico and on AbemaTV.
The cast and characters are as follows:
Tomoaki Maeno as Takumi Ashihara, a 19-year-old college student who doesn't speak much and gives off a cool impression, but he is also kind, and worries about others.

Natsuki Hanae as Aoi Nishina, a 17-year-old high school student and stage actor. He's friendly and cheerful. His parents work overseas.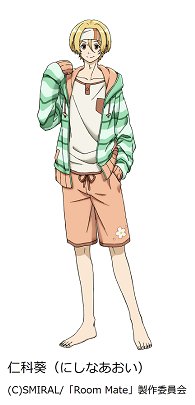 Kousuke Toriumi as Shinya Miyasaka, a 25-year-old elite office worker who works for a famous company. His true personality, however, is arrogant, pompous, and sadistic. On the other hand, he cares for Takumi and Aoi as though they were his own brothers.


The anime is the "Side M" version of SMIRAL Animation's OneRoom television anime series, and was announced in November at the same time as OneRoom. OneRoom premiered in Japan on January 11, and had 12 five-minute episodes. The "first-person narrative" series featured three arcs, with each four-episode arc focusing on a different female character.
Room Mate will similarly focus on three male characters. While OneRoom featured original character designs by Kantoku (The "Hentai" Prince and the Stony Cat., Garakowa -Restore the World- original character designer), Room Mate features original character designs by Hidari ([email protected], Fractale, Santa Company).
Masashi Kikuta and Takashi Sakurai are in charge of the original planning for the anime, and Eiji Mano (OneRoom) drafted the original story. Chisato Nakata (clothing design for Wake Up, Girls!) is adapting Hidari's character designs for animation, Aose Shimoi is returning from OneRoom to write the scripts, and Tomohiro Yamada (yamazo) is composing the music at F.M.F. Typhoon Graphics is returning from OneRoom to animate the series.
Crunchyroll streamed the OneRoom anime as it aired.
---