News

Dai Gyakuten Saiban 2 3DS Game's Video Shows Sherlock, van Zieks

posted on

2017-04-17

12:00 EDT
---
Capcom began streaming a new promotional video on Monday for its Dai Gyakuten Saiban 2: Naruhodō Ryūnosuke no Kakugo courtroom battle Nintendo 3DS game. The video shows the game's main characters and features Sherlock Holmes and Barok van Zieks.
The game's Nintendo Direct video revealed on Thursday that the game will ship in Japan on August 3. The packaged version will cost 5,800 yen (about US$53), and the download version will cost 5,546 yen (US$51). A combo release will include both the original game and the sequel and bundle a mini soundtrack CD for 7,200 yen (US$66).
The e-Capcom online shop will offer an exclusive version (seen below) of the game for 9,800 yen (US$90). The limited edition will include an audio recording CD, retro soft vinyl bank, Teijin Yueng University notebook, and set of three pencils. The first copies will come with one of three tin plate coasters.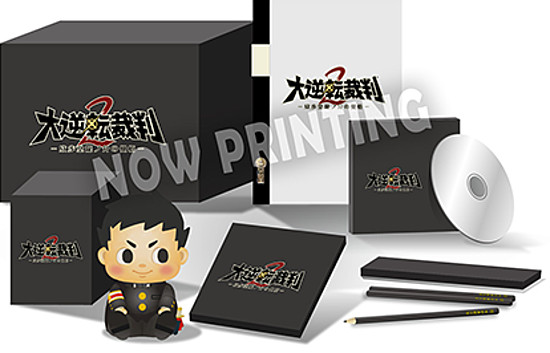 The website also revealed that the Meiji-mura museum park and Scrap's Real Escape Game will hold a special collaborative event for the game.

CAPCOM announced at its "Ace Attorney Series 15th Anniversary Talk & Latest News Special Stage" event at Tokyo Game Show in September that the game is under development as a sequel to the Dai Gyakuten Saiban: Naruhodō Ryūnosuke no Bōken Nintendo 3DS game (pictured right).
CAPCOM released Dai Gyakuten Saiban for the Nintendo 3DS in July 2015. The game is set during the 18th century in Meiji Era Japan. The game's protagonist is Ryūnosuke Naruhodō, an ancestor of main series protagonist Ryūichi Naruhodō (Phoenix Wright). Ryūnosuke eventually travels to London to further his studies, where he meets Sherlock Holmes.
CAPCOM employee and translator Janet Hsu said in June that there were "a number of circumstances" preventing a localization of the game. Hsu commented, "Nowadays on the Internet lots of fans are directly asking us, 'Where's Daigyakuten Saiban?' On livestreams, even in the Japanese ones, people from the West will write in and ask where it is. Every time we say, we're sorry! Certain circumstances are kind of getting in the way."
CAPCOM released Phoenix Wright: Ace Attorney - Spirit of Justice (Gyakuten Saiban 6), the sixth game in the main Ace Attorney series, in Japan last June. Capcom released the game digitally in North America and Europe last September.
---