News

Live-Action Jojo's Bizarre Adventure Stills Show Jōsuke, Kōichi

posted on by Karen Ressler
Stills shot at set for Nijimura brothers' house revealed
---
The staff of the live-action film of Hirohiko Araki's JoJo's Bizarre Adventure: Diamond Is Unbreakable manga revealed two new stills from the film on Thursday. The first still depicts Kento Yamazaki (Jōsuke Higashikata) and Ryunosuke Kamiki (Kōichi Hirose) on TOHO's set for the Nijimura brothers' house, in a scene where Jōsuke is attacked by Keichō Nijimura. The second still shows the actors behind the scenes with director Takashi Miike.


The staff previously revealed stills showing Jōsuke with Jōtarō, as well as stills depicting Angelo.

The film's title is JoJo's Bizarre Adventure: Diamond wa Kudakenai Dai-Ichi-Shō (JoJo's Bizarre Adventure: Diamond Is Unbreakable Chapter I), although the staff have not yet confirmed additional installments for the series. The film will open in Japan on August 4. The film has finished its overseas shooting in Sitges, Spain, and is also shooting in Japan.
Prolific filmmaker Takashi Miike (live-action Terraformars, Ace Attorney, Crows Zero, Yatterman, For Love's Sake, Ichi the Killer) is directing the movie.
The cast includes:
Kento Yamazaki (
Orange, Your Lie in April, Heroine Shikkaku, Wolf Girl and Black Prince
, live-action
Death Note
television) as Jōsuke Higashikata

Ryunosuke Kamiki (Howl's Moving Castle, The Secret World of Arrietty, Bakuman., Rurouni Kenshin Part II: Kyoto Inferno) as Kōichi Hirose


Nana Komatsu (Bakuman., Kin Kyori Renai, World of Kanako) as Yukako Yamagishi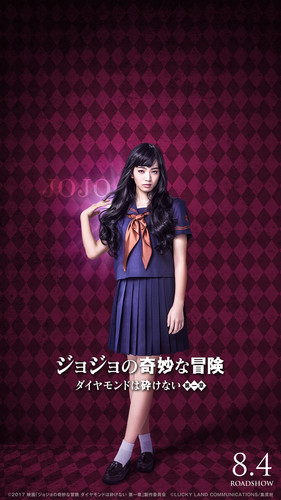 Masaki Okada (Hana-Kimi, Boku no Hatsukoi o Kimi ni Sasagu, Otomen, Mahō Tsukai ni Taisetsu na Koto, Space Brothers) as Keichō Nijimura


Mackenyu (Chihayafuru) as Okuyasu Nijimura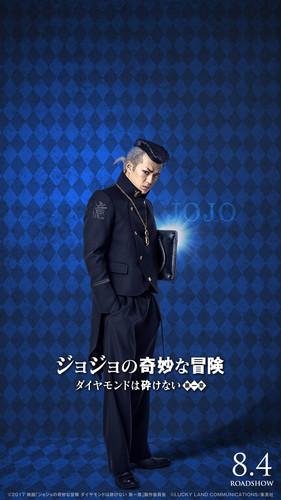 Takayuki Yamada (Bakuman., Terraformars, Crows Zero, Gantz) as Anjūrō "Angelo" Katagiri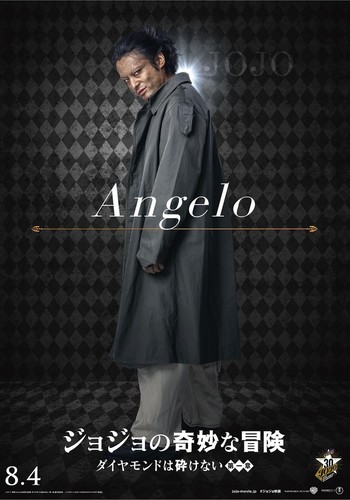 Yusuke Iseya (Casshern, Rurouni Kenshin Part II: Kyoto Inferno, Shinjuku Swan, Honey and Clover) as Jōtarō Kūjō


Other cast members include Alisa Mizuki (Doraemon: Nobita no Space Heroes) as Tomoko Higashikata and Jun Kunimura (Attack on Titan, Chihayafuru, The Wind Rises, Ichi the Killer) as Ryōhei Higashikata.

JoJo's Bizarre Adventure: Diamond Is Unbreakable is the fourth part of Araki's JoJo's Bizarre Adventure manga. The story is set in Morioh, located in S City in M Prefecture of Japan, and it follows the misadventures of Jōsuke Higashikata and his companions, as they are involved in a series of bizarre incidents in their town.
Araki serialized the fourth part of the manga in Shueisha's Weekly Shonen Jump magazine from 1992 to 1995. The entire series has a total of more than 100 million copies in print. david production has been adapting the manga into multiple television anime series, beginning with Part 1 in 2012. The studio's television anime adaptation of Diamond is Unbreakable premiered last April, and Crunchyroll streamed the series as it aired in Japan.
Viz Media is releasing the manga in North America, although its releases have not yet reached the fourth part.
---