News

Air Master's Yokusaru Shibata Launches Kai Tenwan Manga in May

posted on by Rafael Antonio Pineda
Shibata's Yōkai Banchō manga ends on Tuesday
---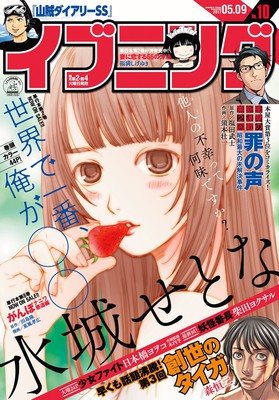 This year's 10th issue of Kodansha's Evening magazine (cover seen right) is revealing on Tuesday that Yokusaru Shibata will launch a new manga titled Kai Tenwan (title romanization not official) in the magazine's next issue on May 9. The manga will have a color opening page, and will feature on the issue's front cover. The manga's first chapter will be 34 pages long.
The manga centers on Shin Kiba, a middle school student who accepts his destiny as a human weapon in order to fight evil and protect Japan.
The 10th issue of Evening magazine is also publishing the final chapter of Shibata's Yōkai Banchō manga on Tuesday. Shibata launched the series in January 2015. Kodansha shipped the sixth compiled volume on February 23. The story follows three elementary school girls: Sako, Koko, and Miko. They live an ordinary life until their new teacher starts a bizarre lesson on awakening their special powers.
The ninth issue of Evening had teased that Yōkai Banchō would have an important announcement on Tuesday.
Shibata's earlier series include Air Master and 81diver. Shibata ended 81diver in July 2014. The manga was adapted into a live-action television series in 2008. Shibata's Air Master manga inspired a television anime in 2003 and Geneon Entertainment and Toei Animation released some of the series on DVD in North America before Funimation picked up the license. Crunchyroll streams the series on its website.
---