News

Princess Principal TV Anime Reveals Theme Song Artists

posted on by Rafael Antonio Pineda
Ryō Takahashi
, new singer MARU perform opening & 5 main cast members perform ending
---

The official website for the Princess Principal original television anime series revealed the opening and ending theme song artists for the anime on Wednesday.
Void_Chords feat.MARU is performing the opening theme song "The Other Side of the Wall." Void_Chords is a pseudonym for composer Ryō Takahashi (High School DxD New, ACCA: 13-Territory Inspection Dept.) MARU is a new singer who previously performed as Mrs. Jefferson in a 2015 production of the musical Rent. The song's CD single is slated for July 26.
Ayaka Imamura, Akira Sekine, Yō Taichi, Akari Kageyama, and Nozomi Furuki are performing the as-yet-untitled ending theme song as their respective characters. The song's CD single is slated for August 2.
The anime will premiere this summer.
The "spy action" series follows five girls in 19th century London, a city within the Albion Kingdom divided into east and west by a large wall. The girls serve as undercover spies enrolled as students at the prestigious Queen's Mayfair school. The girls make use of their individual abilities to remain active in the underground world of disguise, espionage, infiltration, and car chases.
The official website previously streamed a promotional video for the anime in March.
The announced cast includes:
Ayaka Imamura (Absolute Duo's Miyabi, Hundred's Meimei) as Angie, a quiet and brusque girl who possesses strong artistic abilities


Akira Sekine (Aikatsu!'s Miyabi, Tanaka-kun is Always Listless's Miyo-chan) as Princess, the popular and gentle princess of the Albion Kingdom


Yō Taichi (ERASED's Kenya, Love Lab's Sayori) as Dorothy, Angie's partner and the group's leader who excels in driving and shooting


Akari Kageyama (Himouto! Umaruchan's Nana, Crane Game Girls Galaxy's Rei) as Beatrice, a noble girl who feels strong respect and affection for Princess for saving her life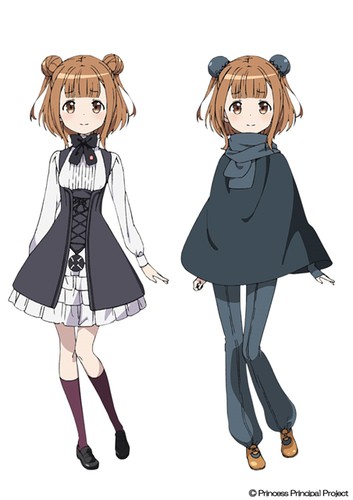 Nozomi Furuki (Barakamon's miwa, High School Fleet's Shima) as Chise, a Japanese exchange student who excels in swordsmanship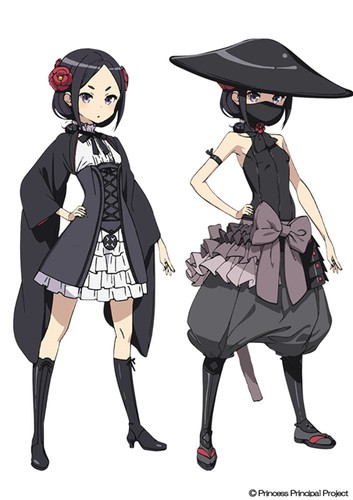 Masaki Tachibana (Barakamon, .hack//Quantum) is directing the series at Studio 3Hz and Actas. Ichiro Okouchi (Code Geass: Lelouch of the Rebellion, Kabaneri of the Iron Fortress) is in charge of the series composition and is also writing the scripts. Kouhaku Kuroboshi (Kino's Journey, Sky Girls) is designing the original characters, and Yukie Akiya (Celestial Method, Code:Breaker) is adapting the characters for animation and is also serving as a co-chief animation director for the series. Yuki Kajiura (Puella Magi Madoka Magica, Fate/Zero) is composing the music.
Other staff members include:
A smartphone game titled Princess Principal Game of Mission is also in development. Preregistration for the game will begin on June 30.
[Via Otasuke]
---