News

Gundam Thunderbolt Anime's Episode 7 Previewed in Trailer

posted on by Rafael Antonio Pineda
Episode debuts on May 31
---
Bandai began streaming a trailer for the seventh episode of the Mobile Suit Gundam Thunderbolt anime on Wednesday. (Note: The linked YouTube video is region-locked to Japan.)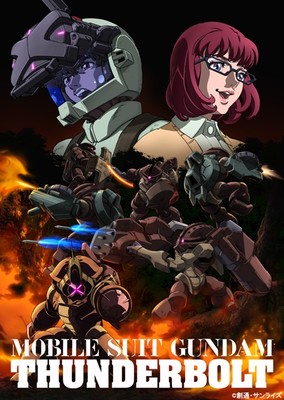 The anime's official website previously posted a story introduction for the episode last month. Before episode 7, the Zeon scientist Karla underwent deep psychological trauma in the fighting during the final days of the One Year War. The Zeon pilot Daryl plays the father figure role to help Karla recover, but her condition has not improved much. Daryl and his comrades leave the base on the marine floor and mobilize in Acguy mobile suits to get in contact with an espionage operative. They are intercepted in an area controlled by the South Seas Alliance.
Meanwhile, the Federation pilots Io and Bianca's Atlas Gundam and Guncannon Aqua mobile suits were damaged in the previous episode's battle. They are ordered on standby duty to allow for repairs. Their mobile suit carrier Spartan heads to the Indian Ocean to continue Operation Thunderbolt, but a South Seas Alliance border defense unit — with Gouf mobile suits on Do-Dai bombers — halts its advance. Io is shocked when he hears the voice of the border defense unit's commander.
The second season of the net anime debuted with the fifth episode on March 24, and the sixth episode premiered on April 28. The seventh and eighth episodes will premiere on May 31 and June 30, respectively. Episodes will again be available via an EST (Electronic Sell Through) service that allows purchasers to download the episode or through a TVOD (Transactional Video on Demand) service that allows rental viewing for a set period.
The first season of the net anime began streaming in December 2015, and the fourth and final episode began streaming last April. The first season received a director's cut compilation titled Mobile Suit Gundam Thunderbolt: December Sky, which includes additional scenes. Right Stuf released an import edition Blu-Ray Disc of the director's cut with both English and Japanese audio tracks last July.
Thanks to Dennis R for the embedded video.
---