News

Resident Evil Films' Producer Plans Reboot Film

posted on by Rafael Antonio Pineda
Paul W.S. Anderson directed 6 films in live-action movie
franchise
since 2002
---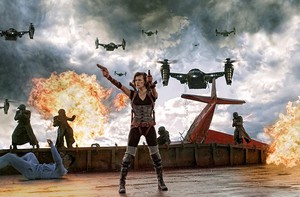 Martin Moszkowicz, chairman of the board at German film production company Constantin Film, confirmed with entertainment news magazine Variety on Sunday that it is developing a reboot film for the Resident Evil film franchise.
Constantin Film produced all six films in the Paul W.S. Anderson-directed Resident Evil franchise. The first zombie apocalypse film based on CAPCOM's survival horror game series premiered in 2002 with actress Milla Jovovich as protagonist Alice. Resident Evil: The Final Chapter, the "final" live-action film, opened in Japan in December, and in North America in January.
The franchise has earned US$1.2 billion worldwide, with Resident Evil: The Final Chapter alone grossing US$312 million worldwide. The franchise is Europe's most successful independent horror-genre movie franchise in history and the highest-grossing film series to be based on a video game.
Constantin Film announced in 2014 that the movies will get a television show spinoff.
Anderson and his Impact Pictures producing partner Jeremy Bolt are currently working on a live-action Hollywood film adaptation of Monster Hunter, another CAPCOM video game franchise. Anderson stated that he sees the film and the game's world as an "opportunity to have a cinematic universe."
A separate CG-animated film titled Resident Evil: Vendetta will open in Japanese theaters on May 27, and will screen in theaters in the United States and Canada on June 19 for one night only. The film is the third CG-animated film for the franchise, after 2008's Resident Evil: Degeneration and 2012's Resident Evil: Damnation.
Source: Variety (John Hopewell)
---