News

3 Former SMAP Members Leave Johnny & Associates Agency

posted on

2017-06-19

02:30 EDT by Crystalyn Hodgkins
Goro Inagaki, Tsuyoshi Kusanagi, Shingo Katori end contracts on September 8, 2 other members stay
---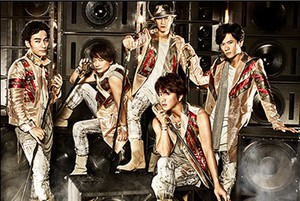 Talent agency Johnny & Associates announced on Sunday evening via fax that it will end its management contract with three former members of the popular idol group SMAP — Goro Inagaki, Tsuyoshi Kusanagi, and Shingo Katori — on September 8. The three former members will then leave the talent agency. The announcement stated that the agency made the decision at the request of the three former members. A Johnny & Associates official said regarding the activities of the three former members after leaving the agency, "They are expected to make announcements as soon as the details are determined."
The other two former members, Takuya Kimura and Masahiro Nakai, will remain with the agency and continue their contracts.
Johnny & Associates announced in August that SMAP would break up on December 31, after a career spanning over a quarter century. The talent agency had said at the time that the five members would remain with Johnny & Associates going forward, but would focus on their solo careers starting this year.
Newspapers had reported in January 2016 that Nakai, Kusanagi, Inagaki, and Katori had been in talks to leave Johnny & Associates, with only Kimura staying with the agency. However, this new announcement stated that Nakai will also stay with the agency. The newspapers had also stated in January 2016 that the timing of the group's break-up hadn't been confirmed as the members were still under contract for commercials. Nakai had appeared in a series of ads for Bandai Namco Entertainment's The [email protected] Cinderella Girls: Starlight Stage smartphone game as recently as April.
SMAP (Sports Music Assemble People) formed in 1988 with six members, although Katsuyuki Mori left the group in 1996. The band debuted with their first single in September 1991.
Together the group performed theme songs for Hime-chan's Ribbon and Lil' Red Riding Hood Cha-Cha. They have also had separate acting careers. Kimura has voiced Howl in Hayao Miyazaki and Studio Ghibli's Howl's Moving Castle film and JP in Takeshi Koike and Madhouse's Redline film, and starred in the live-action film of the space opera anime classic Space Battleship Yamato (adapted as Star Blazers in English). Kusanagi played Peter in The Diary of Anne Frank anime movie and Kouichi in Hime-chan's Ribbon. Inagaki played the Kamen Rider G lead in the live-action special of the same name and Dr. Ratchet in the One Piece: Karakuri Shiro no Mecha Kyohei film. Katori has played Riiya the kid werewolf in Lil' Red Riding Hood Cha-Cha, Hattori-kun in the live-action Ninja Hattori Kun The Movie, and Kankichi in the 2009 live-action drama adaptation of Osamu Akimoto's Kochira Katsushika-ku Kamearikouen-mae Hashutsujo ("Kochikame") police comedy manga.
Sources: The Mainichi, NHK via Hachima Kikō (Link 2)
---