News

Studio Gokumi's Toji no Miko Anime Reveals 4 More Characters

posted on by Jennifer Sherman
Original anime project centers on female sword wielders
---
The official website for Studo Gokumi's Toji no Miko (The Shrine Maiden Swordwielders) original anime project revealed four more character designs and details on Friday. The new characters are as follows:


Maki Shidō, the first seat in the elite guards for the Origami family. She joined the guard group after becoming the sword fighting champion in the last two tournaments for Toji. As the wielder of honest strength based on belief, her sword is sharp and heavy blow-by-blow. Her main duties are being Yukari Origami's bodyguard and having strategic command of aratama suppression. Naturally, it is rare that she does not go out into battle, and she immediately suppresses the aratama when she draws her sword once. She is very popular with people of both the same and opposite sex.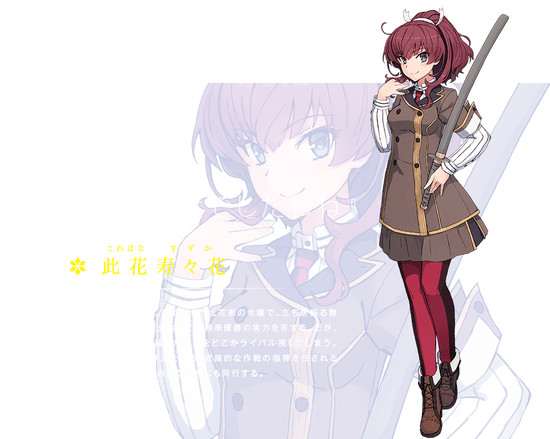 Suzuka Konohana, the second seat in the Origami family's elite guards. She is the daughter in the noble Konohana family in Kyoto, and her movements are elegant. She is endowed with true strength that helped her to become the runner-up in the last two sword fighting tournaments. She sees Maki as her rival after Maki defeated her in competition, causing Suzuka to earn the second seat. She has keen insight and high command power. She is often entrusted with direct strategic command, and she also has Yukari's political duties.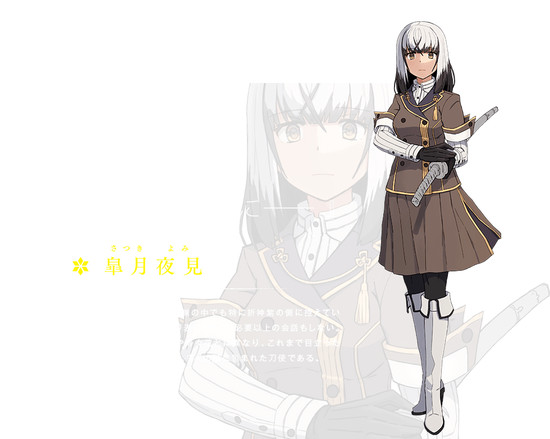 Yomi Satsuki, the third seat in the Origami family guards. She restrains herself more than any of the guards, especially at Yukari Origami's side. She usually doesn't express her emotions on the surface, and she will not have conversation more than necessary. She is different from Maki and Suzuka with their brilliant achievements. So far, she has not had achievements that stand out, so her abilities are unknown. She is a Toji wrapped in many mysteries.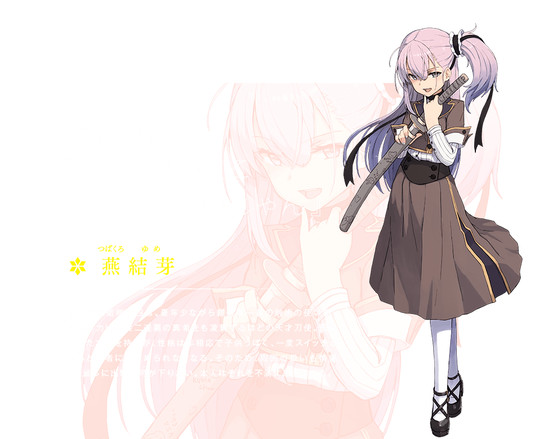 Yume Tsubakuro, the fourth seat in the Origami family guards. Though she is the youngest among the guards, she is the best at swordsmanship, surpassing even Maki. Despite her prodigious talent, however, she has a childish personality as expected for her age, and when she gets in a certain mood no one can stop her. Because of this, those around her treat her cautiously and she rarely has permission to go into battle. She is not happy about that.
Previously revealed characters include:


Kanami Etō, a second-year student in the middle division of Minoseki Academy. She is 13 years old. Her sword is Chidori. She's in the middle division, but she has the sword skills to be a representative for the school. She is a cheerful and positive girl who has many friends. She is a sword technique enthusiast, to the point that her eyes change color when someone talks about techniques. She especially loves sword matches.


Hiyori Jūjō, a third-year student in the middle division of Hiragi Gakukan. She is 14 years old. Her sword is Kogarasumaru. She is serious, cool, and stoic. She has the strongest sense of responsibility among the Toji, and once she decides on something, she doesn't bend. Her sword skills center on speed, and even among the Toji, her skills are among the best.


Mai Yanase, a second-year student in the middle division of Minoseki Academy. She is 13 years old. Her sword is Magoroku Kanemoto. She and her younger sister are the daughters of the leader of the rising "Yanase Group" conglomerate. She is a typical big sister who is very caring, and she possesses superior sword skills. Her hobby is making sweets, and she's most confident in making cookies.


Sayaka Itomi, a first-year student in the middle division of Kamabu Girls Academy. She is 12 years old. Her sword is Myōhō Muramasa. She is young, but she is a genius Toji. She handles her duties with ease, but she has a hard time communicating with the people around her.


Kaoru Mashiko, a 15-year-old first year at Osafune Girl's Academy. Her sword is Nenekirimaru. She is taciturn and does not freely expend energy to trouble herself. She uses the very masculine first-person pronoun "ore." Even though she is short she is a power fighter who can wield a huge sword. She is accompanied by her guardian beast Nene, an aratama. She acts annoyed by Ellen but actually puts a lot of trust in her.


Ellen Kohagura, a 15-year-old first year at Osafune Girl's Academy. Her sword is Echizen Yasutsugu. Her father is Japanese and her mother is American. She has an innocent personality and is frequently smiling to set the mood. Kaoru is her partner. Never shy around strangers, she nicknames people right away.

In the anime's story, since ancient times, shrine maidens who wield swords have been exorcising "aratama," strange existences that threaten the human world. These young women who wear school uniforms and a sword are called "Toji," and they serve as an official unit within the police force as a "special religious service police squad." The government authorizes the Toji to wear swords and serve as government officials, and the government has set up five schools throughout the country for the girls to attend.
The girls live ordinary school lives, while occasionally performing their duties, wielding their swords and using various powers to fight and protect the people. In the spring, the five schools send their best Toji to compete in a tournament. As the tournament comes closer, all of the representatives rigorously train themselves in order to get stronger and improve their skills.
Koudai Kakimoto (Cyborg 009 Call of Justice, unit director for Haikyu!!, Psycho-Pass) is directing the series at Studio Gokumi (Seiren, Yuki Yuna Is a Hero, Pandora in the Crimson Shell: Ghost Urn). Tatsuya Takahashi (The [email protected] Cinderella Girls, Pandora in the Crimson Shell: Ghost Urn, Eromanga Sensei) is handling the series composition, and Yoshinori Shizuma (Zero Kara Hajimeru Mahō no Sho/Grimoire of Zero light novel illustrator) is in charge of the original character design. GENCO is producing the series.
Source: MoCa News
---