×
remind me tomorrow
remind me next week
never remind me
Subscribe to the ANN Newsletter • Wake up every Sunday to a curated list of ANN's most interesting posts of the week.
read more
News

Stan Lee, DEEN's The Reflection Anime Previewed in New Promo Video

posted on by Crystalyn Hodgkins
---
The official website for The Reflection anime project began streaming the anime's latest promotional video on Wednesday.
The anime will premiere on NHK on July 22 at 11:00 p.m. Crunchyroll will stream the anime. The anime's staff previously announced that the anime is planned for a worldwide simultaneous distribution. The series will have 12 episodes.

The anime stars:


Shinichiro Miki as Xon, a mysterious hero who always appears unexpectedly. His age and other personal history remain unknown. If he can touch anyone for three seconds, he can copy the target's powers, and stock a number of powers for later use this way.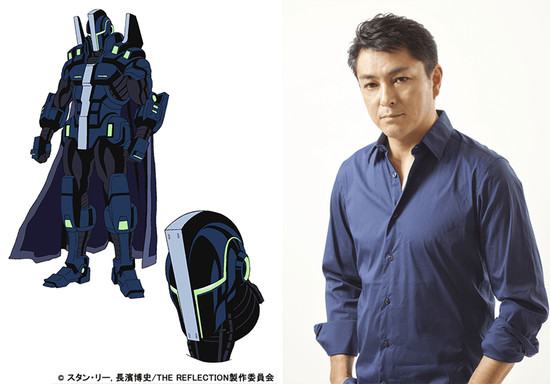 Satoshi Mikami as Ian Izett/I-GUY, a person who has the power to use his voice to generate a concussive blast all around him. He wears powered armor that enhances his concussive voice. His true identity is a famous rock star.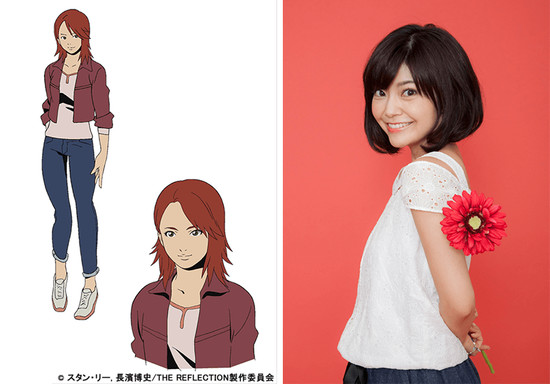 Mariya Ise as Eleanor Everts, a hero who excels in computers and intelligence gathering. She has the power to instantly teleport over short-range distances. She has a strong attachment to Xon, and gathers as much information as she can on him.



Satomi Hanamura as Lisa Livingston, an inquisitive and energetic girl who dreams of the sky. She is a competitor in wheelchair sprints. Due to The Reflection event, her beloved wheelchair gained the ability to transform into a giant robot.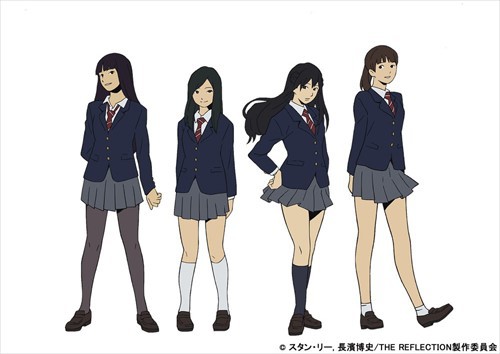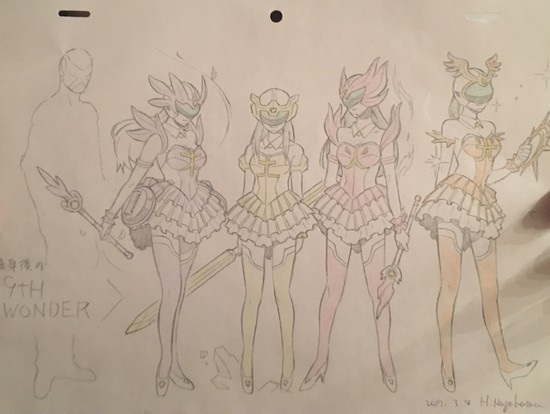 Idol group 9nine members Kanae Yoshii, Hirona Murata, Uki Satake, and Sayaka Nishiwaki as Kana, Hiro, Uki, and Saya. Hiroshi Nagahama, the anime's director, said during an event in April that the characters will not appear many times in the story, but when they do, "they will get a lot of attention. It's like Hulk from The Avengers, he gets the best part." Nagahama drew the anime's original design for the group's appearance, which lists the group as the "9th Wonder."



Shouto Kashii as Deadwing, a Reflected who completely lost all human appearance after The Reflection. He is completely devoted to Reys, who did not shun him due to his detestable appearance. He specializes in flight and attacks by using ultrasonic waves.



Yuko Sanpei as Flaming Fury, a follower of Reys. She is able to freely manipulate flames and can even use it to fly. If she concentrates on her powers, she can use them while completely submerged in water.



Yōko Hikasa as Steel Ruler, a cool-headed woman who agrees with Reys' espoused principles and became his follower. She has a strong ability that allows her to manipulate any metal in existence.



Tomomichi Nishimura as Mr. Mystique, a former astronomer who had foreseen and warned people about The Reflection earlier than anyone else. He has the ability to see where all Reflected are, communicate with them, and observe them.



Kouki Miyata as Reys, a person who has been gathering and manipulating Reflected around him for a secret purpose. His powers are unknown. He excels at playing to the sympathies of people, and he has used this to gather many of the lost and confused Reflected under him to swell his influence.



The anime's story begins with a major incident, The Reflection Event that covered the world in a black smoke that robbed the world of sunlight. Many people lost their lives, but those few who survived gained superpowers and became known as The Reflected. Some chose to be heroes, and others villains. But how and why The Reflection itself happened remains a mystery.
Studio DEEN is collaborating with American comic pioneer Stan Lee (Spider-Man, X-Men, Heroman) and his Pow! Entertainment company for the project. Lee is credited with the original work, and Pow! Entertainment and Studio DEEN are credited with the project planning. Hiroshi Nagahama (Mushi-Shi, Flowers of Evil, Detroit Metal City) is co-creating and directing the series at Studio DEEN, and he is also providing the original character designs. Yoshihiko Umakoshi (Casshern Sins, Berserk, Mushi-Shi) is adapting those designs for animation. British music producer and songwriter Trevor Horn is producing the music for the anime. 9nine is also (Star Driver, Magi, My Little Monster) performing the show's ending theme song (the group was earlier credited with performing an insert song for the series).
Other staff members include Koichiro Sohtome (Mushi-Shi episode director, Bokura ga Ita chief director) as series director, Yasuyuki Suzuki (Naruto, Yu-Gi-Oh! Zexal) as scriptwriter, Kanako Satō (Love Live! School idol project, Wolf Children) as in-between checker, Hiroko Umezaki (Noragami Aragoto, Flowers of Evil) as color designer, Hisaharu Iijima (Bakemonogatari, And Yet the Town Moves) as art director, and Keiichi Nozaki (Ongaku Shōjo, L/R: Licensed by Royalty) as music director.
---