News

Pokémon GO Reveals More Details of 1st Anniversary Events

posted on by Jennifer Sherman
Chicago event to unlock bonuses for players worldwide on July 22
---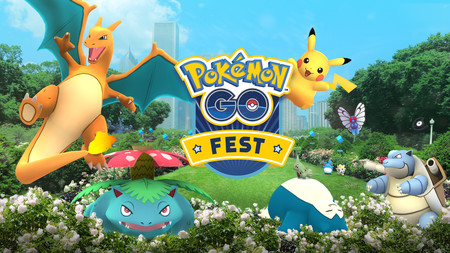 Game developer Niantic announced more details of its planned one-year anniversary events for the Pokémon GO smartphone game on Wednesday. Attendees of the game's first real-world event, Pokémon GO Fest Chicago, will work together with players around the world to unlock in-game bonuses.
During three Challenge Windows at the event, which will be held at Grant Park on July 22 from 11:00 a.m. to 8:00 p.m. EDT, players everywhere will work with players who attend the event to unlock rewards based on the type of Pokémon they catch. For example, if players at the event catch the most Electric-type Pokémon, the distance required to hatch Eggs will be reduced. Depending on how many Pokémon players at the event catch, the duration of the unlocked bonuses will increase.
If players at the Chicago event catch enough Pokémon during the Catch Challenge, they will unlock a Mystery Challenge that they will be able to participate in during the last hour of the event. After players complete the Mystery Challenge at the event, they will unlock an "extra-special bonus" for players around the world. Players around the world will then be able to receive the Global Reward on July 23-24.
In addition, players who attend the event will be able to encounter Pokémon that normally do not appear in Grant Park, receive an exclusive in-game medal, and obtain exclusive two-kilometer Eggs at the park's PokéStops.

Niantic also announced the details of its Pokémon GO Safari Zone events that will be held in Europe this summer in partnership with Unibail-Rodamco shopping centers. The events will be held at shopping centers in Copenhagen, Denmark and Prague, Czech Republic on August 5 and in Stockholm, Sweden and Amstelveen, The Netherlands on August 12. Events will be held in Oberhausen, Germany; Paris, France; and Barcelona, Spain on September 16.
All seven events will offer players the opportunity to catch a variety of Kanto- and Johto-region Pokémon in special zones, including some that have never previously appeared in Europe. The events' image features Kangaskhan, a Pokémon that is exclusive to Australia in the game. In addition, players who attend the events will be able to battle "unique and powerful Raid Bosses." In the main Pokémon game series, Safari Zones are special areas that players can visit to catch Pokémon, including some that are only available there.
The Pokemon Company is organizing the "Pikachu Outbreak" event for the Pokémon franchise in Yokohama on August 9-15. Similar events were held in Yokohama in 2015 and 2016. The upcoming event will feature "a special Pokémon GO experience."
The Pokémon GO at Big Heritage Festival event will be held in Chester, England on July 22-23. The United Kingdom heritage organization Big Heritage is partnering with Niantic "to curate historical locations throughout the ancient city of Chester within Pokémon GO to encourage community engagement and education."

The game is currently holding an in-game anniversary event that is offering a special version of Pikachu wearing Ash's hat and an Anniversary Box in the in-game shop. The event began on July 6, and it will end on July 24. The game launched an updated Gym battle system and Raid Battles in June. Niantic's global marketing product lead Archit Bhargava said in May that "this summer will be legendary."
The Pokémon GO app launched in select countries including the United States on July 6, and has since launched in more than 50 countries.
---