News

Anime-Gataris Original Anime Reveals More Cast, Staff, Ending Song Artists

posted on by Rafael Antonio Pineda
---
The official website for DMM Pictures' new Anime-Gataris (Anime Stories) original television anime revealed additional cast, staff, and the ending theme song artists for the anime on Friday.

The additional cast, including the previously revealed Rie Takahashi, include (left to right, romanizations not official):
Rie Takahashi as Yui Obata, a first-year at Sakaneko High School, and a friend of Minoa. She is a member of the track team. She worries at first about the antics that Minoa gets into at the anime research club, but once she sees Minoa having fun, she accepts and watches over her. She has a lot of secret fans at school. She likes yakiniku.

Junta Terashima as Mitsuki Nakano, a second-year at Sakaneko High School, and a member of the anime research club. His good looks make him popular with the girls. But he is secretly a fan of idol anime. Whenever the topic of a conversation turns to his interests, he undergoes a complete personality change. Minoa looks up to him as a good upperclassman who helped her out in her time of need.

Setsuo Ito as Kai Musashikai, a second-year at Sakaneko High School, and a member of the anime research club. He likes action anime centering on supernatural powers. People tend to stay away from him due to his delusions of grandeur and frequent usage of lines used by action anime protagonists. He is frequently called "Kaikai" by those who know him, even though he hates that name. Ever since Mitsuki ignored Kai's questionable conduct to talk to him, he has been good friends with him.

Anju Inami as Erika Aoyama, a third-year at Sakaneko High School, the president of the anime research club, and Minoa's upperclassman. She generally watches all kinds of anime, but holds a particular fondness for magical girl anime for young girls. She likes to cosplay. She previously lived in the United States due to her parents' job.
The new staff includes Hiroshi Kubo as assistant director, Hiroshi Gouroku as art director, Emi Kesamaru for art setting, Kunio Tsujita as the color designer, Norimasa Teramoto as director of photography, Graphinica as editor, Keigo Hoashi and Kuniyuki Takahashi as music composers, and Yukio Nagasaki as sound director at Studio Mouse.
Kaede Hondo, Sayaka Senbongi, and Hisako Tōjō will perform the ending theme song. Natsumi Tadano is writing the song's lyrics, and Hidekazu Tanaka is composing the song.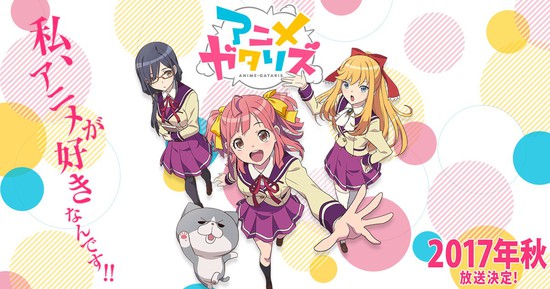 The anime's previously revealed cast includes:
Kaede Hondo as Minoa Asagaya (center in image above), a first-year at Sakaneko High School, and a beginner at anime. Her tendency to get wrapped up in things led her to be a member of the anime research club. The shows she is personally interested in tend to swing back and forth between the influences of the different members of the club. She still has no favorite anime. She is clumsy, but very goal-driven, and is quick to offer a retort.

Sayaka Senbongi as Arisu Kamiigusa (right), Minoa's classmate and the scion of a well-off family, with one of her parents being the president of a major company. Her air of good upbringing tends to radiate around her even if she doesn't say a single word. Because of this, even though she likes anime, she has had no one to talk to about it. She tends to think that money can solve any dilemma. Although she exudes a domineering self-confidence, she is actually frequently lonely.

Hisako Tōjō as Miko Kōenji (left), Minoa's classmate, and a normal student in both looks and personality. She tries not to stand out, and on breaks, she just flips through a novel in the classroom. Recently, she has been getting into novels of the kind that people who pretend they have superpowers like. She tends to watch anime that are adaptations of novels, even though her love for the original novel remains strong. She dreams of being a novelist, and secretly uploads her writing online.
The anime will premiere this fall.
The anime centers on Minoa Asagaya, a new high school student at Sakaneko Private High School. Despite being a novice to anime, Minoa's classmate Arisu Kamiigusa invites her to make an "anime research club" at school. Through conversations with her classmate Miko Kōenji, as well as various anime-loving upperclassmen, Minoa gradually gets hooked on anime. While they stand against the student council's continuous efforts to disband their club, and they ignore the impending end of the world, they talk about anime, whether in Akiba, or in real-life "sacred place" anime settings, or the hot springs.
Kenshirō Morii (Gakumon! ~Ōkami Shōjo wa Kujikenai~, Wake Up, Girl Zoo!) is directing the anime at Wao World. Mitsutaka Hirota (The Prince of Tennis II, Sweetness & Lightning) is in charge of series composition. so-shi (Fullmetal Alchemist: Brotherhood ED director) is designing the characters and is also credited as chief animation director.
Source: MoCa News
---