News

Odex to Open No Game, No Life Zero Film in Singapore, Malaysia, Indonesia, Vietnam

posted on by Rafael Antonio Pineda
Film opened in Japan on Saturday
---

Southeast Asian film distributor Odex announced on Saturday that it will screen the No Game, No Life Zero film in Singapore, Malaysia, Indonesia, and Vietnam. It did not give an opening date for the film.
The film opened in Japan on Saturday. North American company Sentai Filmworks has licensed the film for North America, and it describes the story:
Six thousand years before Sora and Shiro were even a blink in the history of Disboard, war consumed the land, tearing apart the heavens, destroying stars, and even threatening to wipe out the human race. Amid the chaos and destruction, a young man named Riku leads humanity toward the tomorrow his heart believed in. One day, in the ruins of an Elf city, he meets Shuvi, a female exiled "Ex-machina" android who asks him to teach her what it means to have a human heart.
Although the film features the same main cast members as the previous television anime, many of them are credited as characters who lived six millennia before Sora and Shiro came into the alternate world. However, the film's latest visual (pictured below) shows returning characters, including Sora and Shiro.
The film stars: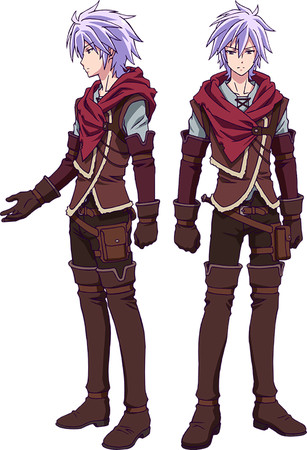 Yoshitsugu Matsuoka as Riku, the young leader of a human enclave


Ai Kayano as Shuvi, a mechanized girl who meets Riku




Yōko Hikasa as Corone Dora, a girl from Riku's enclave and the self-proclaimed sister-in-law of Riku




Yukari Tamura as Jibril, a girl of the Flügel race




Yuka Iguchi as Nonna Zell, a girl from Riku's enclave




Mamiko Noto as Shinku Nilvalen, the head of the noble Elf family Nilvalen


Other cast members include Miyuki Sawashiro as Izuna Hatsuse and Rie Kugimiya as Teto.
Atsuko Ishizuka is returning from the television anime series to direct the film at Madhouse. Jukki Hanada is also returning to handle the script, and Satoshi Tasaki is designing the characters. Kazuhiro Hocchi is drawing concept art. Eiji Iwase is back as art director, and Tsukasa Ohira is also reprising the background art setting role. However, Yoshiaki Fujisawa is composing the music. Super Sweep (Shinji Hosoe, Ayako Sasō, Takahiro Eguchi, and Fumihisa Tanaka) are returning to compose the music at Kadokawa. Konomi Suzuki, the opening theme song performer for the television anime, is also performing the film's theme song "There is a Reason."
---