News

Voltron: The Legendary Defender's 7-Episode Season 3 Premieres August 4, Season 4 in October (Updated With Trailer)

posted on by Karen Ressler
---
The staff of DreamWorks Animation Television and Netflix's Voltron Legendary Defender series announced at Comic-Con International on Thursday that the third season will be seven episodes and will premiere on August 4. The fourth season will premiere in October.
In addition, the staff announced that A.J. Locascio is voicing Prince Lotor, and introduced four half-galra female generals who support him.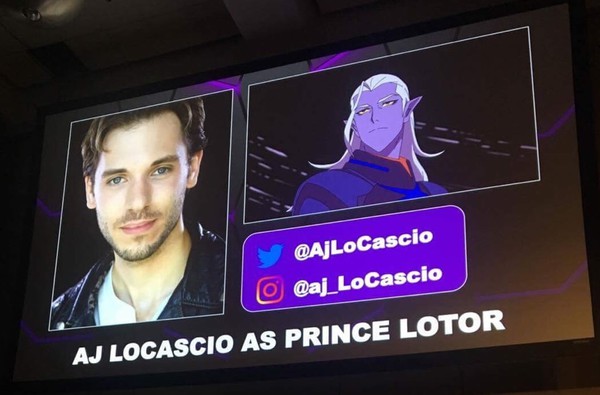 The staff also shared a new trailer and the first episode of season three at the panel. The trailer implied that the Paladins will be using different lions in this season.
The 13-episode second season premiered on Netflix on January 20. Dreamworks describes the second season's premise:
Team Voltron has been scattered throughout the universe in the aftermath of a perilous battle with Zarkon, Haggar and the evil Galra Empire. Working to bring the lions back together to form Voltron again, the Paladins' plan to defeat the Galra once and for all takes them across the universe in search of new worlds and unexpected allies.
The show's 11-episode first season premiered on Netflix June 2016, and features the following voice cast:
Steven Yeun (The Walking Dead) as Keith
Jeremy Shada (Adventure Time) as Lance
Bex Taylor-Klaus (Arrow) as Pidge
Josh Keaton (Green Lantern: The Animated Series) as Shiro (formerly "Sven")
Tyler Labine (Tucker and Dale vs. Evil) as Hunk
Kimberly Brooks (Mass Effect) as Princess Allura
Rhys Darby (Flight of the Conchords) as Coran
Neil Kaplan (Transformers: Robots in Disguise) as King Zarkon

The character known as Sven in the first Voltron television series was originally named Takashi Shirogane in King of Beasts Golion, the original anime series that was adapted as Voltron.
Studio Mir (The Legend of Korra) animated the first season. Joaquim Dos Santos, Lauren Montgomery, and Tim Hedrick all worked together on Avatar the Last Airbender and The Legend of Korra.
Thanks to Yoshiko Tsunehara for the news tip.
---