News

Akagi Manga Inspires 2nd Live-Action Series in October

posted on by Karen Ressler
---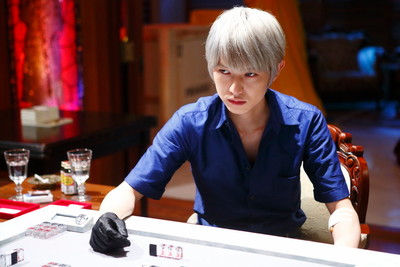 A second live-action drama series based on Nobuyuki Fukumoto's Akagi -Yami ni Oritatta Tensai- manga will premiere this October on the BS Sukapaa! station. New episodes will air at 9:00 p.m. on Fridays.
The new series is titled Akagi "Ryūzaki, Yagi-hen" "Ichikawa-hen" (Akagi "Ryūzaki, Yagi Arc" "Ichikawa Arc") and it is a continuation of the 2015 live-action series. Kanata Hongou will again play the title character Shigeru Akagi.
The first 10-episode television series premiered in July 2015 on BS Sukapaa!, and Crunchyroll streamed the show. It adapted the story episodes from the original manga from volume 8 onward, and used CG to recreate Fukumoto's signature vivid depictions of psychological moments and mahjong moves.
The Akagi manga series begins on one stormy night, when Nangō is playing a game of Mahjong with the local yakuza. Soon, he finds himself on a losing streak. If Nangō loses, he will have to pay with his life. Suddenly, a young teenaged boy, Shigeru Akagi, barges in, drenched from the rain. After watching a couple of games, he offers to replace the struggling Nangō. At that moment, a new legend is born.
Fukumoto launched the ongoing manga series in Takeshobo's Kindai Mahjong magazine in 1992 and it will end in February 2018. The manga inspired a 2005 television adaptation by anime studio MADHOUSE, and Crunchyroll streamed the anime starting in 2013. Fukumoto's gambling manga Kaiji also inspired two television anime and two live-action films.
Sources: Comic Natalie, Mantan Web
---