News

Digimon Adventure tri. Stage Play Gets New Digimon Designed by Kenji Watanabe

posted on by Karen Ressler
New form of VenomVamdemon/VenomMyotismon previewed
---
The official website for Digimon Adventure announced on Friday that Digimon character designer Kenji Watanabe provided a new design for the Digimon Adventure tri. ~8-gatsu Tsuitachi no Bōken~ (Digimon Adventure tri.: The Adventure on August 1) stage play. The Digimon, a new form of VenomVamdemon (VenomMyotismon in the English dub), is named "VenomVamdemon Undead" and will be an antagonist in the play.

The staff also announced that a preview scene from the upcoming Digimon Adventure tri. Kyōsei film will screen at stage play performances. The scene will show Metalgreymon's evolution to Wargreymon.
The cast includes:
Gaku Matsumoto as Taichi Yagami


Shōhei Hashimoto as Yamato Ishida


Kaisei Kamimura as Kōshirō Izumi


Junya Komatsu as Jō Kido


Kenta Nomiyama as Takeru Takaishi


Suzuka Morita as Sora Takenouchi


Marina Tanoue as Mimi Tachikawa


Yūna Shigeishi as Hikari Yagami


Graffiti Oreno as Etemon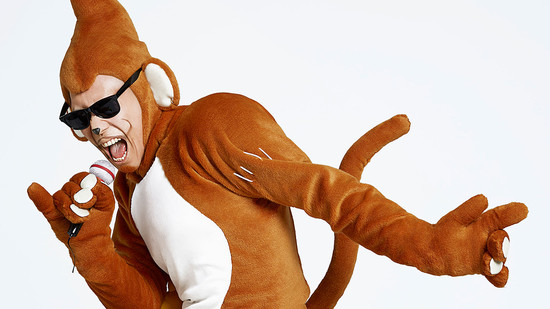 The voice cast of the Digimon characters are reprising their roles in the stage play. The roles are:
Chika Sakamoto as Agumon
Mayumi Yamaguchi as Gabumon
Katori Shigematsu as Piyomon
Takahiro Sakurai as Tentomon
Shihomi Mizowaki as Palmon
Junko Takeuchi as Gomamon
Miwa Matsumoto as Patamon
Yuka Tokumitsu as Tailmon
The ensemble cast members are Hideyuki Yoshihara, Makoto Ōtani, Rina Minami, Takuya Matsuoka, Michiko Washiya, Ryō Miyake, Kenshin Ikeda, and Sakiko Shōno.

The "super evolution" stage play will run for 10 performances at the Zepp Blue Theater Roppongi in Tokyo from August 5-13. All tickets cost 7,800 yen (about US$70). Tickets went on sale through lottery between May 20-28, and general sales tickets start on July 2.
Polygon Magic is producing the play, and Akiyoshi Hongo is credited with the original work. Kenichi Tani (Pluto, Watashi wa Shingo) is directing the play and writing the script.
The play will tell a side story centered on the eight DigiDestined. The date of August 1 is a special one to Yamato, Taichi, and the other DigiDestined. While Taichi is busy with soccer practices, Hikari suggests that everyone should go camping together on August 1. Everyone eventually agrees to the idea, and the day of the camping trip comes. However, Mimi has accidentally forgotten the camping equipment, so the excursion gets off to a rough start. Everyone starts to think of ways to overcome the situation, when suddenly Taichi smiles and says "this is just like the time we first went to the Digital World!" The feelings of six years ago resurface, and the August 1 camping trip really gets started. However, that camping site has a secret.
The Digimon Adventure tri. anime film series, which celebrates the 15th anniversary of Digimon Adventure (the first entry in the television anime series), will have a total of six films. The fifth film in the series, Digimon Adventure tri. Kyōsei (Union or Symbiosis), will open in Japan on September 30.
Source: Anime! Anime!
---