News

Blood Alone Manga's Volume 12 Gets Release at Comiket 92

posted on by Jennifer Sherman
11th volume released in 2014 after series' abrupt end
---
Blood Alone manga creator Masayuki Takano announced on his official Twitter account on Sunday that the booth of his dōjinshi (self-published book) circle Vanishing Point will release the 12th compiled book volume of the manga at Comic Market 92 (Comiket 92) on August 13. Takano posted an announcement image and sample pages for the release.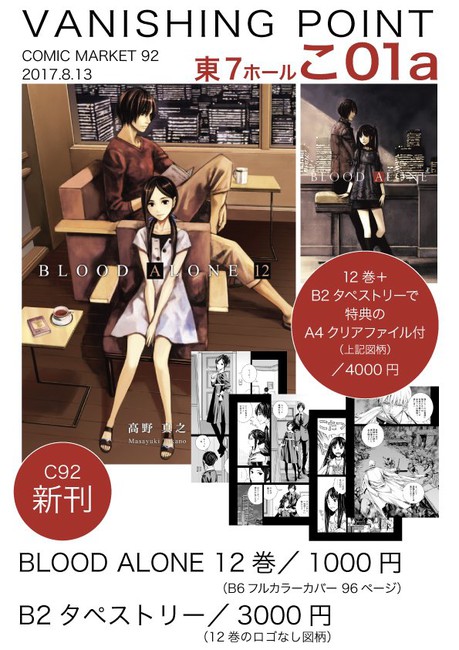 The manga volume will be available for 1,000 yen (about US$9), and a B2-size tapestry with the volume's cover art will be available for 3,000 yen (US$27). People who purchase both items will receive an A4-size clear file. The manga's 11th compiled book volume will also be available for 1,000 yen (US$9).
Takano has previously released content for the series at Comiket events. He released a "laid-back" one-shot manga and illustration collection at Comiket 87 in 2014. Takano released a short story for the manga at Comiket 91 this past December. Comiket 92 will be held at the Tokyo Big Sight complex on August 11-13.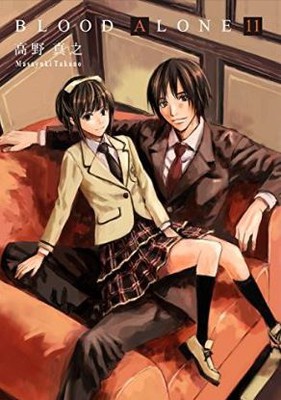 The manga's story revolves around Misaki, a young girl who has been turned into a vampire, and Kuroe, a male author who writes about vampires. Through a fateful meeting, they now live together. Misaki has sweet feelings of love for Kuroe, despite their separation in age. Although their everyday life is usually uneventful and happy, other vampires and creatures lurking in the darkness might have a hand in causing rifts in their normalcy.
Takano's manga ended prematurely in Kodansha's Evening magazine in 2014. He had told fans that he would release the remainder of the manga in dojinshi, since the manga was in its final arc. He released the 11th compiled volume as dojinshi in print and digitally through Amazon's Kindle service later that year. Takano then announced in 2014 that the 12th volume had been delayed due to his work on Cross Haze. He said in 2015 that he wanted to release the volume in 2016.
Blood Alone began originally as a dojinshi by Takano. It began serializing in ASCII Media Works' Monthly Comic Dengeki Daioh in 2004, and moved to Evening in 2010. The manga has been adapted into drama CDs at least four times, with the cast including Mai Nakahara as Misaki and Toshiyuki Morikawa as Kuroe.
The manga was licensed in North America by Infinity Studios, and Seven Seas began publishing the manga once again after obtaining the license in 2010. Seven Seas released the sixth compiled volume of the manga in 2012, but confirmed that it no longer has the rights to the series due to the change in publishers.
---