×
remind me tomorrow
remind me next week
never remind me
Subscribe to the ANN Newsletter • Wake up every Sunday to a curated list of ANN's most interesting posts of the week.
read more
News

Funimation to Release Kiddy Girl-and, Hybrid×Heart, Myriad Colors Phantom World Anime

posted on by Karen Ressler
---

Funimation announced at its Otakon panel on Saturday that it has licensed the Kiddy Girl-and anime. In addition, it announced that it will release the Hybrid×Heart Magias Academy Ataraxia, Myriad Colors Phantom World, and The Future Diary anime on Blu-ray Disc and DVD combo pack. The Ninja Hunter live-action movie is also slated for release on Blu-ray Disc and DVD combo pack on November 14.
Funimation will release its Blu-ray Disc and DVD combo packs for First Love Monster, Handa-kun, Cheer Boys, Genocidal Organ, the Speed Racer/Mach GoGoGo box set, and Your Name. on November 7. 91 Days is slated for November 14 and the first season of New Game is slated for November 21. Funimation will release limited editions for Your Name. and 91 Days in addition to the standard editions.
Funimation will release Kiddy Girl-and on Blu-ray Disc and DVD combo pack on November 28. Kiddy Girl-and is the 2009 sequel to 2002's Kiddy Grade anime, and it takes place decades after the events of the original series. The story revolves around two new heroines, Ascoeur and Q-feuille, who are training to work for the galactic government known as GTO. The series also spawned an alternate retelling titled Kiddy Girl-and Pure.
Funimation previously released Kiddy Grade on DVD in North America.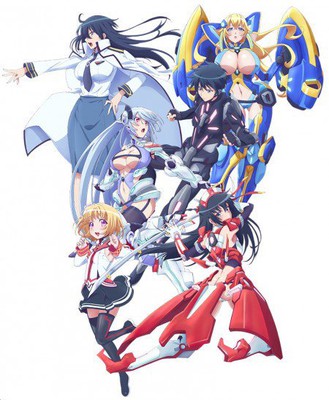 Funimation will release Hybrid×Heart Magias Academy Ataraxia (Masō Gakuen H×H) on November 21. The series premiered in July 2016. Crunchyroll streamed the series as it aired in Japan.
The "ultimate battle action" story centers around Kizuna Hida, who visits the strategic defense academy Ataraxia at his big sister's request. "There, he encounters Aine Chidorigafuchi, a girl piloting the magical armor Zerosu. Aine suddenly pulls off her clothes before Kizuna's eyes. 'Don't look, you pervert—' 'No, you're the one!?' However, a communique about a serious mission arrives from Kizuna's sister. The mission — to rub Aine's chest!? Actually, Kizuna has the power to level up a girl through indecent acts. With a battle against another world, the future depends on this power."
Hiroyuki Furukawa (My Wife is the Student Council President) is directing the series at Production IMS, and Yasutomo Yamada (Venus Versus Virus, Motto To Love Ru) oversaw the scripts. Kana Miyai (Castle Town Dandelion sub-character design) was the character designer, Masakatsu Oomuro (Military!, I Can't Understand What My Husband Is Saying) was the sound director, Dax produced the sound, and Flying Dog produced the music.

Funimation will release Myriad Colors Phantom World on November 21. It will offer both a regular and limited edition.
The series premiered in January 2016 and Crunchyroll streamed the series as it aired in Japan. Crunchyroll previously announced plans to release the series on Blu-ray Disc and DVD home video in North America with an English dub, though Funimation has since taken over Crunchyroll's home video distribution.
The story of Sōichirō Hatano's original novel takes place in the near future, in a world born of human imagination. What humans would call ghosts or monsters appear, and they come to be called "phantoms." The main character, Haruhiko Ichijō, is a first year at Hosea Academy along with his upperclassman Mai Kawakami, who fights phantoms with the ability "Spirit of Five Elements," Reina Izumi, who has the ability "Phantom Eater," and Koito Minase, who fights phantoms in solitude. They experience the ups and downs of high school life before a certain incident leads them to the truth of this world.
Tatsuya Ishihara (The Melancholy of Haruhi Suzumiya, Love, Chunibyo & Other Delusions!, Sound! Euphonium) directed the series at Kyoto Animation, and Kazumi Ikeda (Clannad television anime, second Kanon television anime, Love, Chunibyo & Other Delusions!) designed the characters and served as chief animation director. Shirabi provided the original illustrations for Hatano's novel. Fumihiko Shimo (Kokoro Connect, Infinite Stratos, Clannad) handled series composition, and EFFY composed the soundtrack.

Funimation will release The Future Diary on November 21, and the release will include the original video anime (OVA) with the "true end."
Funimation previously released the series on DVD and later on Blu-ray Disc with an English dub. It is streaming on FunimationNow, and Crunchyroll is also streaming the series in Japanese with English subtitles.
Funimation describes the story, based on a manga by Sakae Esuno:
Reality quickly unravels for antisocial Yukiteru when Deus Ex Machina calls him into a death match to determine the new god of space and time. Each mentally scarred player possesses a prophetic device tuned to his or her personality disorder, giving them control over their future... and the fate of their opponents. It's their strongest weapon - and their greatest weakness.

Within hours of abusing his digital diary's predictions, Yukiteru is cornered by a crazed classmate. Yuno - who is obsessively stalking him with her own psychic cell phone - is cute, sharp, and great with an ax. Still, her psychosis hides a vile secret. As a serial killer, a cult priestess, and a volatile escape artist take a stab at eliminating the teens, Yuki can cheat death under Yuno's maniacal protection or - DEAD END.
Naoto Hosoda (Shuffle!, Koe de Oshigoto!) directed the anime at the anime studio asread. Katsuhiko Takayama (Baka and Test - Summon the Beasts, Cat Planet Cuties) supervised the series scripts, and Hidetsugu Hirayama (Shuffle!, Shuffle! Memories) designed the characters with Ruriko Watanabe.
---