News

Aria the Animation Kickstarter Meets Goal for English Dub

posted on by Jennifer Sherman
---

Nozomi Entertainment's Kickstarter crowdfunding campaign to provide an English dub for its HD release of Aria the Animation met its initial goal of US$110,000 on Thursday. As of press time, the campaign has raised US$111,221 from 1,008 backers. The campaign launched on Saturday, and it will end on September 11.
The project's staff revealed this week that the English dub cast will include Michele Knotz and Jessica Calvello. The dub will be recorded at Headline Studios in New York.
Crunchyroll announced on Tuesday that it has added the anime to its streaming catalog. All 13 episodes of the series are available for members in the United States, Canada, and Mexico.
Hal Film Maker animated the 2005 television series Aria the Animation, and it later inspired two more television series in 2006 and 2008, as well as original video anime (OVAs) in 2007 and 2015. Junichi Sato (Sailor Moon, Princess Tutu) directed all installments in the anime franchise.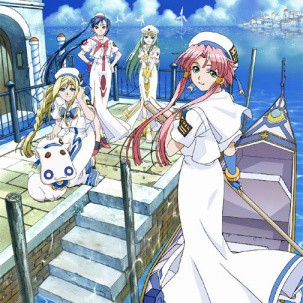 Nozomi Entertainment describes the story:
Akari Mizunashi, at the age of 15, has left everything behind to travel to a sparkling planet covered in water, Aqua, formerly known as Mars. By the 24th century, humans have found a way to colonize the formerly uninhabitable planet.

More than anything, Akari wants to be an "undine" - a female gondolier who navigates the canals of the Aquan city of Neo-Venezia. The city itself is a faithful replication of Manhome's (Earth) city of Venice. To make sure that residents and tourists alike get the most from Neo-Venezia's many wonders, companies offering guided tours via gondola were formed, one of which is named Aria Company.

As she begins her training with the prestigious Aria Company, will she be up to the challenges that await her on the path to achieve her dream?
Right Stuf licensed the three television series and the 2007 OVA in North America with English subtitles. ADV Manga released the first three of 12 total volumes of Kozue Amano's original Aria manga series in North America, then Tokyopop released the first six volumes. Tokyopop also released the two-volume Aqua prequel manga in North America.
---