News

'Fireworks' Anime Film Ranks at #4 in 2nd Weekend at Japanese Box Office

posted on

2017-08-28

02:30 EDT by Crystalyn Hodgkins
---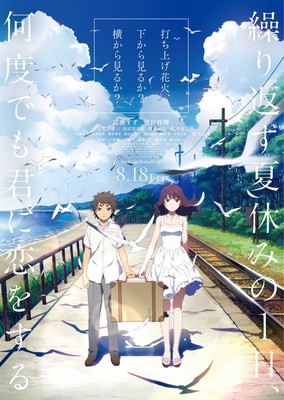 Uchiage Hanabi, Shita kara Miru ka? Yoko kara Miru ka? (Fireworks, Should We See it from the Side or the Bottom?), the anime film adaptation of director Shunji Iwai's 1993 live-action drama of the same name, fell from #3 to #4 in its second weekend at the Japanese box office for August 26-27. The film is set on one day during summer vacation, and follows a group of boys who try to view a fireworks display from the town lighthouse to see if they look round or flat when viewed from the side. Meanwhile, one of the boys, Norimichi, receives an invitation from his crush Nazuna to run away with her. The film had earned 170 million yen (about US$1.56 million) on its opening day, and is expected to earn a total of 4 billion yen (US$36.6 million) at the Japanese box office.

The live-action Kimi no Suizō o Tabetai (I want to eat your pancreas) film stayed at #5 in its fifth weekend. The film is based on Yoru Sumino's novel of the same name. The book is also inspiring an anime film next year.


Pokémon the Movie: I Choose You! (Gekijōban Pocket Monster: Kimi ni Kimeta!), this year's Pokémon film, fell from #6 to #8 in its seventh weekend. The film had sold 436,000 tickets to earn 516 million yen (about US$4.61 million) in its first two days and open at #1 at the Japanese box office. The film earned 159.3% of the opening weekend total of last year's Pokémon the Movie: Volcanion and the Mechanical Marvel film, which debuted at #3 and earned a total of 2.15 billion yen (US$19.2 million).


Studio Ponoc and Hiromasa Yonebayashi's Mary and The Witch's Flower (Mary to Majo no Hana) anime film stayed at #9 in its eighth weekend. The film sold 324,000 tickets to earn 428 million yen (about US$3.75 million) on 458 screens in its opening weekend. The anime based on Mary Stewart's The Little Broomstick book earned 113% of the box-office earnings of When Marnie Was There, Yonebayashi's previous film, during its opening weekend. The film will open in 155 countries and territories worldwide.


The live-action film of Hideaki Sorachi's Gintama manga dropped from #8 to #10 in its seventh weekend. The film opened on July 14, and has earned more than 3 billion yen (about US$27.20 million) after 30 days in theaters. The film had the highest opening two days of any Japanese live-action film in 2017 so far. The film's total box-office earnings are expected to surpass 5 billion yen (US$44.7 million).

The double feature Gekijō-ban Kamen Rider Ex-Aid True Ending and Uchū Sentai Kyūranger The Movie: Gase Indabay no Gyakushū films fell from the top 10 chart in their fourth weekend.
Sources: Kōgyō Tsūshin, Eiga.com
---