News

London Film Festival Screens France-Japan Animation Mutafukaz

posted on by Andrew Osmond
---
The lineup for the 2017 London Film Festival includes the animated film based on Guillaume "Run" Renard's comic series of the same name. The film will be screened at the Prince Charles Cinema on Sunday October 8 at 6.15 p.m. and the Rich Mix Cinema on Monday October 9 at 9 p.m.
Tickets will become available to BFI Members on Thursday 7 September at 10 a.m. and available to the public on Thursday 14 September from 10 a.m. (The festival also includes screenings of Masaaki Yuasa's Lu Over the Wall and Miike Takashi's live-action Blade of the Immortal.)

French video game and comics publisher Ankama and Japan's Studio 4°C (Tekkon Kinkreet, Berserk: The Golden Age Arc) are co-producing the project. Renard himself is directing the film with Tekkon Kinkreet animation director Shoujirou Nishimi. Shinji Kimura(Tekkon Kinkreet, Steamboy) is serving as art director.
The project was first announced in 2011, and the staff announced in 2015 that the film was slated for release in 2017. Ankama streamed a teaser trailer for the film in 2015.
Renard's original comic series is set in "Dark Meat City" — a "pre-apocalyptic American urban jungle" — and revolves around Angelino, a young man whose scooter accident results in the acquisition of supernatural powers. Ankama's official website for the comic stated that it is inspired by science fiction of the 1950s, hip hop music, and wrestling.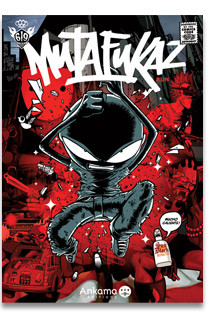 Titan Comics released the first volume of the original French graphic novel in English-speaking countries in 2015.
Via UK Anime Network.
---