×
remind me tomorrow
remind me next week
never remind me
Subscribe to the ANN Newsletter • Wake up every Sunday to a curated list of ANN's most interesting posts of the week.
read more
News

Anime-Gataris Anime's 2nd TV Ad Previews New Characters

posted on by Jennifer Sherman
---
The official website for DMM Pictures' new original television anime Anime-Gataris (Anime Stories) revealed four more characters and cast members and began streaming a second television commercial on Monday. The video features GARNiDELiA's opening theme song "Aikotoba" (Password) and the GATALIS character unit's ending theme song "Good Luck Lilac."

The newly revealed cast members are:
Hironori Kondou as Neko-senpai, a mysterious cat-shaped creature who can speak the language of the people in the anime research club room. He seems to have many names. Only Minoa can understand his words. His favorite foods are canned cat food and fish. He sticks his nose into various matters related to anime newbie Minoa and tries to help when it counts, but because a cat can only do so much after all, Minoa generally can't be saved. His favorite anime are beast shows. He's more of a fan of Common Raccoon than Serval.

Inori Minase as Maya Asagaya, Minoa's older sister. She is a third-year high school student in Tokyo and a member of the lacrosse team. She is a kind sister who wakes Minoa every morning and always takes care of her. She saw anime as a child, but she begins to have a bit of an interest in anime when she sees Minoa doing her best in the anime research club. As a polar opposite of Minoa, she is interested in science and technology and has excellent grades. Her favorite microorganism is the water bear. Her favorite type of resistance is carbon resistance. She seems be a senior aspiring for college, and she studies hard for tests.

Ai Kakuma as Ai Asagaya, Minoa's mother. She was involved with the entertainment industry, but she marries Shūgo after her shocking retirement. Her strength is dancing, and she sometimes works as a choreographer for acquaintances even after retirement. She usually calls Shūgo "Papa," but she calls him "Shūgo-kun" when it's just the two of them. She recently started making jar salads after a fellow mom friend got her into them. Her favorite combination is tomatoes and arugula. She was very pleased when she heard Minoa, who is passive compared to her older sister, started club activities. She is a beautiful person and a kind mother.

Kenta Zaima as Shūgo Asagaya, Minoa's father. He works for a major publisher in Tokyo. He is a normal father like those anywhere, but he has his own troubles. He recently hasn't been interfering with his daughters who are at a sensitive age, and he's facing a corporate restructuring crisis. He is happy being surrounded by his beautiful wife and cute daughters, but there seems to have been various circumstances behind his first brush with love. He is extremely interested in Minoa's club activities.
The anime will premiere on Tokyo MX on October 8 at 10:00 p.m. A special program for the anime will air on the channel on October 1. The anime will also begin airing on BS Fuji on October 11 at 24:00 (effectively October 12 at 12:00 a.m.), with the special program airing on October 4.
The anime's main cast will appear on a live streaming program that will air before each new episode of the anime, beginning on October 8 at 9:00 p.m. The anime will also participate in the Machi Asobi event in Tokushima on October 7-8. A fan appreciation event featuring cast members will be held at Toyosu PIT in Tokyo on November 26.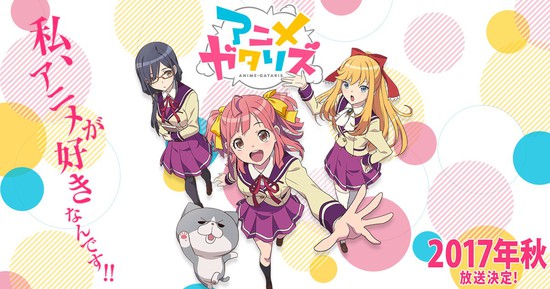 The anime's previously revealed cast includes:
Kaede Hondo as Minoa Asagaya (center in image above), a first-year at Sakaneko High School, and a beginner at anime. Her tendency to get wrapped up in things led her to be a member of the anime research club. The shows she is personally interested in tend to swing back and forth between the influences of the different members of the club. She still has no favorite anime. She is clumsy, but very goal-driven, and is quick to offer a retort.

Sayaka Senbongi as Arisu Kamiigusa (right), Minoa's classmate and the scion of a well-off family, with one of her parents being the president of a major company. Her air of good upbringing tends to radiate around her even if she doesn't say a single word. Because of this, even though she likes anime, she has had no one to talk to about it. She tends to think that money can solve any dilemma. Although she exudes a domineering self-confidence, she is actually frequently lonely.

Hisako Tōjō as Miko Kōenji (left), Minoa's classmate, and a normal student in both looks and personality. She tries not to stand out, and on breaks, she just flips through a novel in the classroom. Recently, she has been getting into novels of the kind that people who pretend they have superpowers like. She tends to watch anime that are adaptations of novels, even though her love for the original novel remains strong. She dreams of being a novelist, and secretly uploads her writing online.

Rie Takahashi as Yui Obata, a first-year at Sakaneko High School, and a friend of Minoa. She is a member of the track team. She worries at first about the antics that Minoa gets into at the anime research club, but once she sees Minoa having fun, she accepts and watches over her. She has a lot of secret fans at school. She likes yakiniku.

Junta Terashima as Mitsuki Nakano, a second-year at Sakaneko High School, and a member of the anime research club. His good looks make him popular with the girls. But he is secretly a fan of idol anime. Whenever the topic of a conversation turns to his interests, he undergoes a complete personality change. Minoa looks up to him as a good upperclassman who helped her out in her time of need.

Setsuo Ito as Kai Musashikai, a second-year at Sakaneko High School, and a member of the anime research club. He likes action anime centering on supernatural powers. People tend to stay away from him due to his delusions of grandeur and frequent usage of lines used by action anime protagonists. He is frequently called "Kaikai" by those who know him, even though he hates that name. Ever since Mitsuki ignored Kai's questionable conduct to talk to him, he has been good friends with him.

Anju Inami as Erika Aoyama, a third-year at Sakaneko High School, the president of the anime research club, and Minoa's upperclassman. She generally watches all kinds of anime, but holds a particular fondness for magical girl anime for young girls. She likes to cosplay. She previously lived in the United States due to her parents' job.

Natsumi Takamori as Ayame Ōzaki, a second-year at Sakaneko High School, and the student council vice president. While she has authority, she has a tendency to go charging off on her own, though Matsuri often calms her down. She practically worships Tsubaki and her strong sense of duty. Because the anime research club has Tsubaki's constant attention, she feels jealous toward Erika, and sees the club as her mortal enemy.

Asuka Nishi as Tsubaki Akabane, a third-year at Sakaneko High School, and the student council president. She is serious to a fault, and a model student, whose looks and intelligence prove popular with the student body. For some reason, she is constantly fixated on efforts to disband the anime research club. When she was younger, she used to like magical girl anime, but now she doesn't watch them at all. She knows Erika from childhood, and they used to be close.

Miyu Takagi as Matsuri Toda, a second-year at Sakaneko High School, and the student council's treasurer. She is a very calm and collected girl, and hardly anything bothers or disturbs her or her devotion to her duties as treasurer. She has constantly admired Tsubaki's resolute attitude. As the one who usually calms down Ayame when she runs wild, she has a close friendship with her.

Kana Hanazawa as Yan Beibei, a student who hails from Beijing. She has totally immersed herself in anime fandom, using her studies of Japanese as the initial reason for watching. She loves anime so much that she travels to Japan for anime-related events.

Makoto Furukawa as Masato Gomon, the classical literature teacher, and the adviser of the anime research club. He is a geek for quality video equipment, and he became the adviser for the club primarily in order to use the club room's legacy equipment. His sometimes irresponsible personality often winds up summoning trouble.

Naomi Maruyama as Tōru Roppongi, the homeroom teacher of Minoa's class, as well as the adviser of the track team. Tōru has a very big sisterly attitude, but Tōru's roundabout way of talking often frustrates the students. In truth, Tōru cares about the students very much, and is highly regarded in both classes and club activities. Tōru knows absolutely nothing about anime.
The anime centers on Minoa Asagaya, a new high school student at Sakaneko Private High School. Despite being a novice to anime, Minoa's classmate Arisu Kamiigusa invites her to make an "anime research club" at school. Through conversations with her classmate Miko Kōenji, as well as various anime-loving upperclassmen, Minoa gradually gets hooked on anime. While they stand against the student council's continuous efforts to disband their club, and they ignore the impending end of the world, they talk about anime, whether in Akiba, or in real-life "sacred place" anime settings, or the hot springs.
Kenshirō Morii (Gakumon! ~Ōkami Shōjo wa Kujikenai~, Wake Up, Girl Zoo!) is directing the anime at Wao World.Hiroshi Kubo is the assistant director. Mitsutaka Hirota (The Prince of Tennis II, Sweetness & Lightning) is in charge of series composition. so-shi (Fullmetal Alchemist: Brotherhood ED director) is designing the characters and is also credited as chief animation director. Hiroshi Gouroku is the art director, and Emi Kesamaru is in charge of art setting. Kunio Tsujita is the color designer, while Norimasa Teramoto is the director of photography. Graphinica is credited as editor. Keigo Hoashi and Kuniyuki Takahashi are composing the music, and Yukio Nagasaki is the sound director at Studio Mouse.
Source: MoCa News
---