News

Welcome to the Ballroom Anime's Video for 2nd Half Previews New Unison Square Garden Song

posted on by Rafael Antonio Pineda
Anime's 2nd half debuts with new opening, ending theme songs next Saturday
---
The official website for the Welcome to the Ballroom anime unveiled a new promotional video and visual for the anime's second half on Monday. The video previews the anime's new opening theme song "Invisibile Sensation" by Unison Square Garden.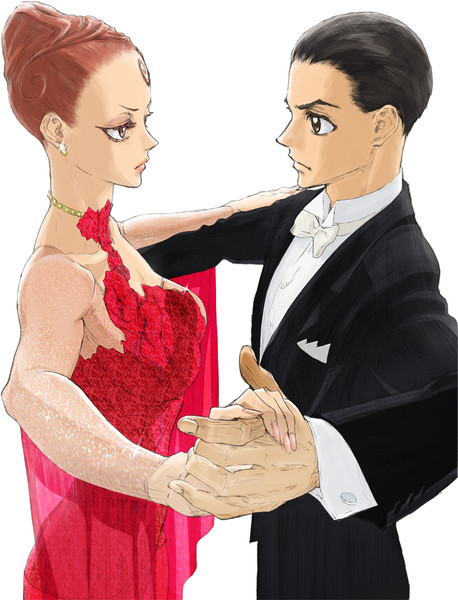 Aside from Unison Square Garden, Mikako Komatsu is also returning to perform the new ending theme song "Swing heart direction." The songs will debut in the anime's second half on September 23. "Invisible Sensation" will ship on CD on Novmeber 8, and the download version will debut on November 15. "Swing heart direction" and two other songs will debut on CD and via download on the same day, November 8.
Unison Square Garden and Komatsu already perform the anime's first opening and ending theme songs, "10% roll, 10% romance" and "Maybe the next waltz," respectively.
The series has been streaming on Amazon's Anime Strike as it airs in Japan since July.
Kodansha Comics is publishing Tomo Takeuchi's original manga series in North America, and it describes the story of the series:
Feckless high school student Tatara Fujita wants to be good at something - anything. Unfortunately, he's about as average as a slouchy teen can be. The local bullies know this, and make it a habit to hit him up for cash, but all that changes when the debonair Kaname Sengoku sends them packing. Sengoku's not the neighborhood watch, though. He's a professional ballroom dancer. And once Tatara Fujita gets pulled into the world of the ballroom, his life will never be the same.
Yoshimi Itazu (Pigtails director, animation director for Paranoia Agent, Miss Hokusai, Den-noh Coil) is directing the series at Production I.G. Kenichi Suemitsu (K, Tōken Ranbu, Isobe Isobee Monogatari ~Ukiyo wa Tsurai yo~ stage plays) is handling the series composition, Yuuki Hayashi (My Hero Academia, Death Parade, Robotics;Notes) is composing the music, and Takahiro Kishida (Haikyu!!, Puella Magi Madoka Magica) is the character designer.
Source: MoCa News
---