News

Dynamic Chord Anime's 2nd Promo Video Previews rêve parfait's Opening Theme

posted on by Karen Ressler
Fall 2017 anime features 4 fictional bands
---
TBS Animation began streaming a second promotional video for the anime of the honeybee black label's DYNAMIC CHORD otome project on Friday. The video previews rêve parfait's opening theme song "p.s. i hate you♡xxx," as well as the other in-universe bands and animation.
The project follows the musical careers and personal lives of several bands under the "Dynamic Chord" agency and music label. The anime's cast includes: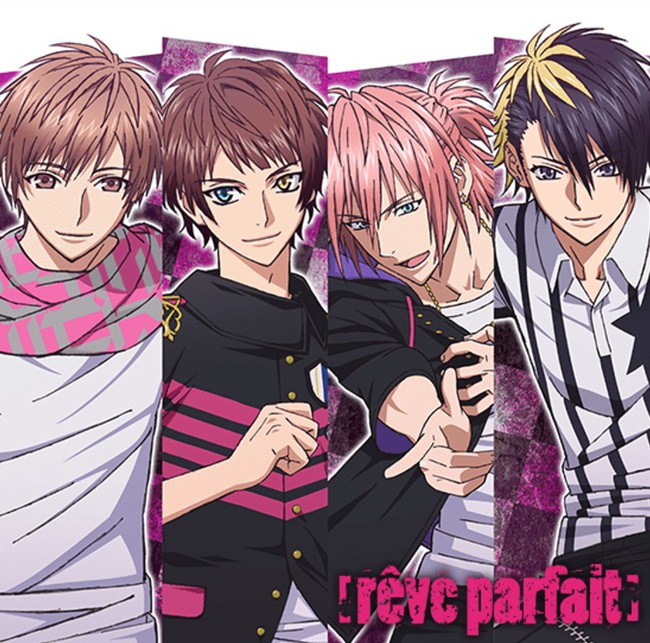 rêve parfait, a progressive rock band who combines rock and pop.

Kyohso, a veteran rock band (formed a decade ago and made its major debut five years ago) centering around the vocalist Yorito.

Liar-S, a newcomer rock band that made its major debut three years after its formation.

apple-polisher, a rock band (centering around the guitarist UK) which has been performing not just in Japan, but globally. The members mix dance numbers and rock, and are currently popular among middle and high schoolers.
Shigenori Kageyama (Himawari!, Hi-Speed Jecy) is directing the anime at Pierrot, and is also in charge of series composition and penning the scripts alongside Kyōko Katsuya. Yasuomi Umetsu (Kite, Galilei Donna, Wizard Barristers: Benmashi Cecil) is designing the characters. Akemi Nagao (Star Driver the Movie, Gundam Build Fighters) is in charge of color design, and Hiromi Sasaki (Samurai Bride, Soul Buster) is the editor. Yasunori Honda (Black Lagoon, Mōryō no Hako) is the sound director at Zack Promotion. Shinji Katahira (White Album, Hinako Note) is in charge of art direction, and Tohru Sugawara (Sugar Sugar Rune, Kingdom) is the director of photography. Pierrot+ is credited for production cooperation.
Showtaro Morikubo will perform the ending theme song "because the sky..." as his character Yorito Kisaka. rêve parfait, Liar-S, and apple-polisher will also perform ending theme songs.
The anime will premiere on TBS on October 5 at 1:58 a.m. (effectively October 6 morning). The show will also air on BS-TBS and CBC.
---